During these past years of pandemic-related closures and lockdowns, many Americans have hit the road to visit the country's National Parks. Yosemite National Park in California is one of the most beautiful and popular of these federally-protected areas. Dog owners planning a trip to Yosemite may wonder if their pets are also welcome in the wilderness. Are dogs allowed in Yosemite?
The answer is yes, dogs may visit Yosemite but with some restrictions. In this article, we'll let you know where in the park your dog is allowed and what areas are off-limits. We'll also cover tips for helping your pup enjoy the park safely and without disturbing local wildlife.
Dogs In Yosemite: Where Can They Go?
Located in east-central California, Yosemite National Park covers over 750,000 acres of the Sierra Nevada Mountain Range. Popular activities include camping, hiking, viewing the ancient sequoia trees, and climbing famous cliffs like El Capitan.
According to the Park Service, dogs are allowed in the following areas of Yosemite:
Campgrounds, except group sites and walk-in sites
All paved roads and paths, except where noted
All developed areas
However, dogs are banned from the following areas, including pups that are carried or in a stroller:
Unpaved trails, except the Wawona Meadow Loop
On unplowed roads
In undeveloped wilderness areas
In public buildings, lodging areas, or on shuttle buses
In group or walk-in campsites
Anywhere else, as noted by signs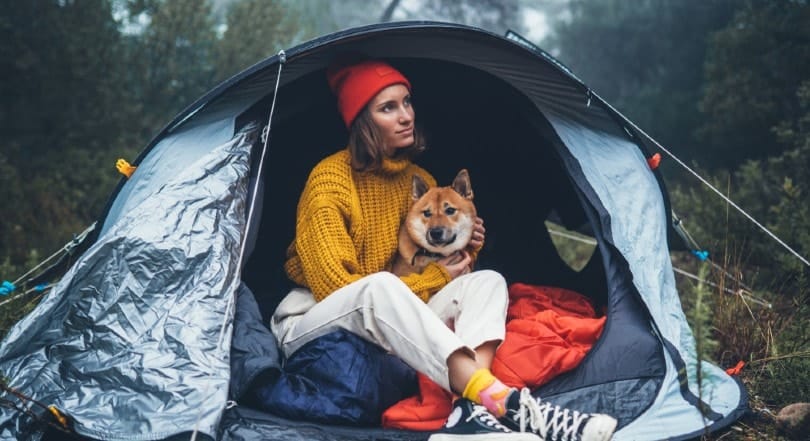 Keeping Your Dog And The Area Safe When Visiting Yosemite
As a dog owner, you must abide by the rules when taking your pup into Yosemite. Dogs can be very disruptive to local wildlife and their habitat, in addition to being in danger from disease and predators themselves.
Don't try to take your dog on trails where they're not allowed. The Park Service notes that dogs on trails may chase wildlife, pollute waterways, or pose a threat to other hikers and animals if they feel threatened.
Keep your dog on a 6-foot or shorter leash and never leave them alone in the park. If you're camping with your dog, store their food safely away from bears just like you do your own. Of course, you should always clean up after your pup.
Never let your dog chase or interact with any wildlife. If you encounter wildlife with your dog, keep your distance. Don't let your dog explore meadow areas, or they may disturb nesting birds and rodents.
Make sure your pu is up-to-date on vaccinations, especially for rabies and distemper. If the weather is hot, be alert to the dangers of heatstroke and make sure your dog has plenty of water and shade.
Finally, California's recent drought has increased the danger of toxic algae blooms in Yosemite. Certain algae produce harmful compounds that can make you and your dog dangerously ill. Don't let your dog swim in or drink out of bodies of water where algae are present or eat dead animals and fish.
Things To Do With Your Dog In The Yosemite Area
If you want to take your dog to Yosemite and still not miss out on the trails where they aren't allowed, there is a dog kennel that operates in the valley during the peak summer months. However, they only house dogs larger than 20 pounds.
Pet-friendly hotels and restaurants can be found throughout the Yosemite area. Within the park, you can bring your dog along on short hikes to view some famous waterfalls, including Bridalveil Falls and Lower Yosemite Falls. You can also get a view of Half Dome, a famous peak in the park, and hike with your dog to Mirror Lake.
Wawona Meadow Loop is one of the few trails your dog is allowed on and is an excellent place to photograph wildflowers in the spring. Other long hikes you can do with your dog include the Chowchilla Mountain Road and Big Oak Flat Road.
If you're planning a longer visit to the area, Mammoth Mountain and the Sierra National Forest are both nearby and offer additional opportunities for outdoor fun with your pooch.
Conclusion
Before embarking on a trip to Yosemite with your dog, check ahead to find out if any permits are required to enter at certain times. Due to increased visitation during the pandemic, many parks have begun to restrict entry to prevent overcrowding and protect sensitive wilderness areas. Prepare and plan ahead to make sure you and your dog can safely enjoy all the beauty Yosemite has to offer!
---
Featured Image Credit: dezy, Shutterstock