Pet insurance has grown in popularity in recent years, as veterinary bills, like medical bills for humans, grow increasingly costly. But what is pet insurance exactly, and is it something you should consider for your pet?
Find the Cheapest Pet Insurance Quotes in Your Area
What is Pet Insurance?
Pet insurance is defined as a veterinary insurance plan similar to a health insurance plan a human may have through their employer or through the HealthCare.gov healthcare insurance marketplace (read more about pet healthcare in our exclusive "State of Pet Healthcare Report"). It works in a similar way as a person's health insurance plan, too: As a pet parent, you pay a monthly premium, and should your pet get sick or become injured, some veterinary care may be covered by your pet insurance provider.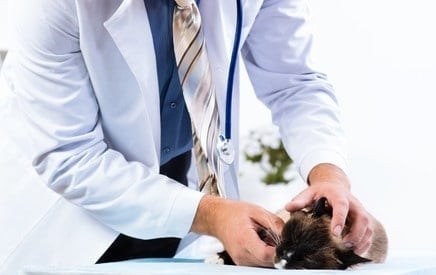 Like human health insurance, pet insurance won't cover all of your pet's veterinary health needs. Typically, these plans cover accidents and illnesses, while some plans will allow you to add coverage for preventative care at an additional cost. Otherwise, though, you're on the hook for ordinary preventative care, such as vaccinations, annual well-checks, and the like. For covered conditions and treatments, pet owners are generally required to pay out-of-pocket upfront and then submit claims for reimbursement from the insurance provider after the service has been provided.
How Does Pet Insurance Work?
Pet insurance is a great way to protect yourself from unforeseen, expensive veterinary bills and expenses. But pet insurance works differently than insurance for humans. Many pet insurance providers and plans have much in common, but there are also many differences.
Learn more about How Does Pet Insurance Work?
What Does Pet Insurance Cover?
Pet health insurance comes with a mouthful of vocabulary that you probably recognize from your own health insurance policy, including premiums, deductibles, tiers, and copays. And just like health insurance for humans, health insurance for pets also has limitations on what it will and will not cover.
Learn more about What Does Pet Insurance Cover?
Is Pet Insurance Worth the Cost?
Is pet insurance worth the cost, and is it something every pet owner should purchase for their pets? We asked 30 pet experts from veterinarians, to pet bloggers, to pet insurance professionals if pet insurance is worth the expense.
See what they say: Is Pet Insurance Worth the Cost?
Types of Pet Insurance Policies
An increasing number of companies offer pet insurance plans, but not all plans are the same. That means you'll need to do some comparison shopping to find the right plan for your pet's needs. In general, there are a few primary types of pet insurance plans available:
Accident-Only Plans: These plans provide coverage for treatment required in the event that your pet has an accident and suffers an injury. For instance, these plans may cover treatment for burns or broken bones. Accident-only plans do not, however, cover treatment related to illness.
Pet Wellness Plans: These plans offer coverage for routine treatments and prevention, including annual wellness exams, vaccinations, and flea and tick preventatives.
Time-Limited Policies: Time-limited pet insurance policies will cover treatment up to a maximum dollar amount, such as $1,500, per condition, and coverage for that condition ends after a specified time period, such as 12 months, after which the condition is excluded from coverage. For instance, if your pet develops diabetes, a time-limited policy would cover the first $1,500 of treatment or treatment for the first 12 months after diagnosis, whichever comes first. Because of these limitations, time-limited plans are often more affordable than more comprehensive policies.
Maximum-Benefit Policies: Similar to time-limited policies, maximum-benefit policies cap the dollar amount that the plan will cover for a condition. The primary difference between the two is that there is no time limitation on coverage for a condition with a maximum benefit plan – this policy would continue to cover treatment indefinitely, until the maximum dollar amount has been reached.
Lifetime Policies: Also known as covered-for-life policies, lifetime policies are among the most comprehensive pet insurance plans available. As such, they're also the most expensive option. For pets requiring ongoing treatment for chronic illness or expensive surgical procedures, it's a worthy investment. But again, no one has a crystal ball (at least not one that actually allows us to see into the future).
Benefits of Pet Health Insurance
As a devoted pet parent, you want your beloved four-legged friend to live a long and healthy life. But it's impossible to predict the future, and sadly, many pets eventually develop chronic conditions or end up with accidental injuries. Treating these conditions and injuries can be quite costly, particularly if your pet requires regular medication, surgery, or other ongoing treatments.
It's an unfortunate reality that many pet owners face when a beloved pet has an accident or develops an illness requiring costly treatment. In some cases, pet parents may face the difficult choice of putting their pet down if they're unable to afford a surgery or procedure costing thousands of dollars. In these situations, pet insurance is truly a lifesaver, but it can also be a budget-saver for less serious, but still expensive, veterinary needs.
Unlike human health insurance, which typically limits the beneficiary's choice of healthcare providers, pet insurance beneficiaries can see the veterinarian of their choice in most cases, as long as the provider is properly licensed.
Challenges of Pet Insurance
Pet parents with pets who have pre-existing conditions may face challenges finding a pet insurance plan for their pet. Most of the time, a policy will exclude coverage for conditions that your pet has already been treated (or is currently undergoing treatment) for. While you should still be able to obtain insurance coverage, be aware that you're unlikely to find a policy that will cover any costs related to pre-existing conditions.
Insuring older pets can also prove challenging. In the veterinary world, pets are typically considered "geriatric" when they reach seven or eight years of age. Because older pets are more likely to develop chronic illnesses requiring long-term treatment, insurance premiums will generally be higher than they would be for younger animals. You may also pay a higher deductible.
Pet insurance is rarely comprehensive, meaning pet owners are still responsible for some costs, including co-pays, deductibles, and any costs in excess of annual or lifetime maximums, or maximum coverage limits for specific conditions. You will also still be responsible for a percentage of the costs accrued after a deductible is met for most pet insurance plans. This percentage is usually low, around 10-30%, however.
How to Choose the Right Pet Insurance Plan
Selecting the right pet insurance plan can be complex. Like you would if you were choosing your own health insurance plan, you'll need to carefully examine the coverage offered as well as understand the limitations. For instance, you'll want to know if the policy covers things such as:
Consultations and examinations
Laboratory tests
X-rays, MRIs, and other imaging
Surgery and hospitalizations
Medications and other supplies, such as bandages
Dental treatments
Some comprehensive pet insurance plans may even offer coverage for behavioral consultations or foods required for a special diet, provided that it's recommended by your veterinarian as part of a treatment plan for a covered condition. Alternative therapies, such as acupuncture or massage therapy, are also an option under some pet insurance plans. Non-routine dental treatments may be covered under some policies, or you may have to purchase a separate policy or a "rider" (a coverage add-on for an additional fee) for dental coverage. Most of these plans do not cover routine cleanings, but may cover non-routine services such as extractions.
Additionally, some pet insurance plans may cover accidental damage – damage caused by your pet to another person's home or property. These policies generally won't cover damage to your home or property, however, and there are typically other exclusions, so be sure you understand precisely what is and is not covered if you're considering such a plan.
In addition to determining what coverage options you'd like to have and finding policies that offer these options, you should also consider co-pays (an amount you're required to pay out-of-pocket for a consultation or exam, or for more expensive procedures) and deductibles (a portion of the cost you're required to pay out-of-pocket before the insurance policy will cover the remaining cost), as well as how reimbursement is determined. Opting for a higher deductible will often result in a lower monthly premium, so it's worth weighing your finances to determine the maximum amount you could comfortably pay.
It's best to obtain pet insurance for a pet at a young age. This results in lower premiums and deductibles, and decreases the odds that your pet will have pre-existing conditions that will be excluded from coverage. If you do have pet insurance and your pet is growing older, be sure to renew your existing policy before it expires. Otherwise, you may face higher premiums and other costs when attempting to obtain new coverage.
What is the Best Pet Insurance?
After performing extensive research, here's our top pick for the best pet insurance company:

Learn More
on Embrace Pet Insurance's secured website

Average Customer Rating

What we like:
Optional wellness plan

Monthly Premium
As low as $10 for cats and $16 for dogs
Deductible
$200, $300, $500, $750, or $1,000
Benefits Limits
70%, 80% or 90% of annual costs
Age Restrictions
As young as 6 weeks and as old as 14 years

Visit the Embrace Pet Insurance website or get a quote for pet insurance
We chose Embrace Pet Insurance for a variety of reasons. To learn more and read our full review here.
You can also see our full list of The 5 Best Pet Insurance Companies.
For more top pet insurance picks, check out:
Pet Insurance Company Reviews
We've created in-depth, informative reviews for the most reputable pet insurance providers, which explore everything from monthly premiums to total coverage information.
See each of our in-depth reviews of all pet insurance companies below:
Popular Product Reviews from Pango Pets: