You love your dog and can't stand to see her suffering from anxiety, so what now? Prescription medications, such as Prozac, are available for dogs, but can leave them lethargic and cause a range of side effects that can occasionally be worse than the anxiety itself. CBD oil is an all-natural derivative of cannabis that offers calming properties without the "high" caused by the psychoactive parts of the plant, such as THC. Still, this begs the question, how much CBD oil should I give my dog for anxiety?
CBD dosage can be tricky, and some dog owners find the recommended dosage doesn't reduce their dogs' anxiety significantly enough. We'll take you through dosage and more to help you find the best CBD oil and the right dosage for your anxious dog.
Does CBD Oil Really Help Anxious Dogs?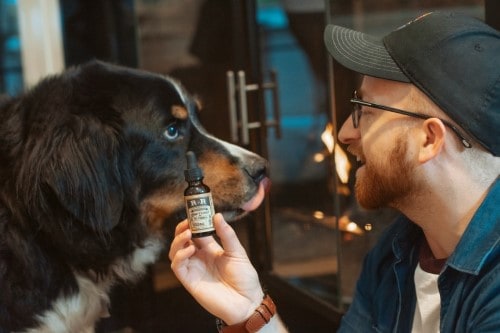 Like humans, dogs have an endocannabinoid system, which CBD oil reacts with to cause a range of positive effects. Although there's still not a huge body of research in the field, it appears that one of these positive effects is reducing anxiety. This is primarily based on anecdotal evidence, since veterinary research has been focused on the affects of CBD on osteoarthritis and epilepsy (for which CBD seems to be beneficial) but anecdotal evidence shouldn't be overlooked when it comes from hundreds of thousands of dog owners across the globe.
In short, yes, CBD oil really does help anxious dogs, whether that oil comes in capsule form, like HolistaPet CBD Oil For Dogs, or as a straight up oil, like MedTerra CBD Pet Tincture. Of course, all dogs are individuals, so you may find some dogs respond better than others, partly down to the severity and causes of their anxiety.
How Much CBD Oil Should I Give My Dog for Anxiety?
Petly 125 mg CBD Oil
The 125 mg potency makes this an ideal CBD oil for smaller dogs.
Take 20% off Petly CBD products with code PL20
Getting the dosage right is the hard part. Too little and you might not see any significant reduction in anxiety. Too much and your dog may become lethargic, unwilling to get up, and experience poor balance (until the effects wear off in a number of hours). Dr. Angie Krause, DVM recommends starting on a dose of 0.2 mg per kg of body weight twice daily. A kilogram is roughly equal to 2 pounds, so that works out at 0.1 mg per pound of body weight, twice daily. If you don't notice a marked improvement, you can increase this to 0.5 mg per kg of body weight twice daily (or 0.25 mg per pound of body weight, twice daily). Dr. Krause says that in severe cases, she'd even advocate increasing this up to 2 mg per kg of body weight, twice daily. However, we'd recommend starting off slow.
Of course, the amount of CBD oil you'll need to give your dog will depend on the strength of the formula, too. For example, American Shaman Cheese & Beef CBD Dog Tincture contains 300 mg of CBD in the full bottle, or 10 mg per ml. So, if your dog's daily dosage was 20 mg, you'd need to give her 2 ml, whereas a dog on a 5 mg daily dosage would only need 0.5 ml. As such, it's easier to administer lower potency CBD oil, such as Petly 125 mg CBD Oil, to small dogs who would only need a tiny drop of a high strength oil.
Do Other CBD Products Reduce Canine Anxiety?
You'll find a range of other CBD products for dogs on the market, from treats to salve to shampoo. Obviously topical CBD products, such as creams and bathing products, aren't going to help with anxiety but treats and chews will do the same job as CBD oil and may be easier to administer in some cases. If you're looking for some other types of products, consider Pet Releaf Soft-Chew Edibites CBD Dog Treats, which come in sweet potato pie or peanut butter and carob flavors in either 2 mg or 5 mg potency. Or Green Garden Gold Doggy Be Good CBD Oil Treats, which are crunchy treats with 2 mg of CBD a piece.
Are There Any Potential Side Effects of CBD Oil for Dogs?
What's great about CBD oil is that there are very few potential side effects. According to the American Kennel Club, CBD oil can cause dry mouth in dogs (and lead to increased thirst), slight drowsiness, and temporary small drop in blood pressure (which could make your dog feel a little dizzy but not for long). Dogs who have a significant overdose of CBD oil might vomit, lose their balance, become extremely drowsy, and refuse to get up, but this is only a result of incorrect dosing and will only last for a few hours, so we don't consider it a significant risk.
If you're concerned about your anxious dog, CBD oil can show vast improvements with few side effects, so we think it's well worth trying. Once you've learnt the correct dosage, you'll soon see improvements in your canine companion. You may find using an anxiety jacket in addition to CBD oil improves results even further.
---
Featured Image Credit: iAmMrBenjamin, Shutterstock