As a dog lover who cares about the latest breakthroughs in pet health, you may have heard about hemp oil for dogs and want to learn more about this natural product. Although many potential health benefits of hemp oil for dogs have been speculated by research on lab animals and indeed even humans, few have have been verified with clinical studies on dogs specifically.
This article will take a look at a promising clinical trial underway at the Colorado State University's Veterinary Teaching Hospital: Hemp oil for the treatment of drug resistant forms of canine idiopathic epilepsy.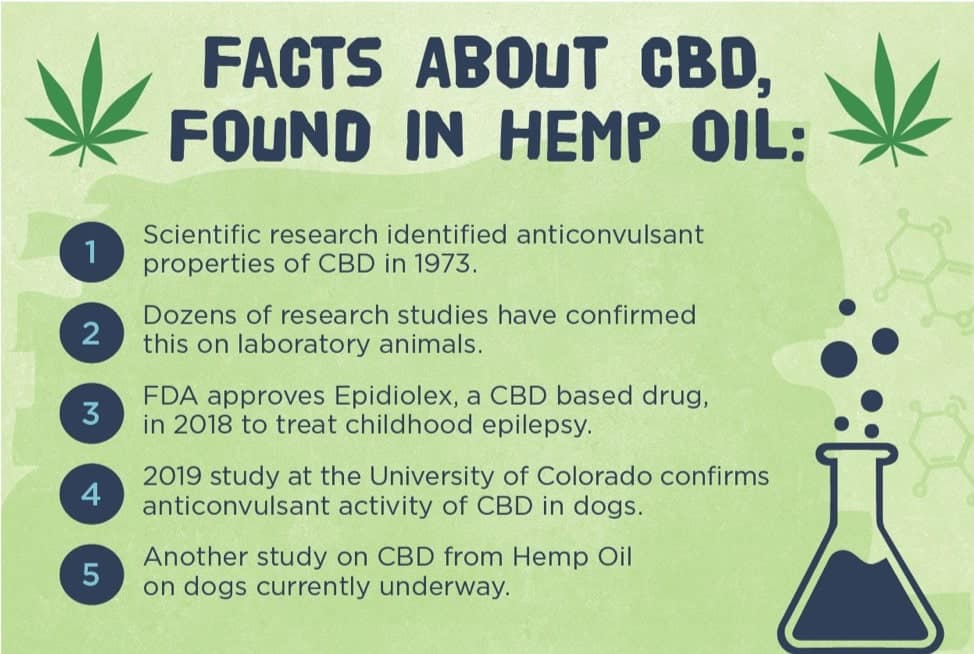 Can Hemp Oil Be Used for Seizures in Dogs?
According to the AKC Canine Health Foundation, epilepsy affects as many as .75% of dogs (that is around 1 for every 133 canines). Drugs routinely prescribed to treat seizures in dogs include several anticonvulsant drugs such as Gabapentin, Phenobarbital, and Potassium Bromide. Unfortunately these medications can have severe side effects, including long term dependence, the development of drug resistance (high tolerance), and severe sedative effects.
Although the anticonvulsant properties of CBD have been known by researchers since at least 1973, clinical trials and research on cannabis based compounds has been historically complicated by the illegal status of cannabis. The FDA approved Epidiolex® in 2018, a drug made from the active ingredient cannabidiol (CBD oil) extracted from the hemp plant. This drug was approved to treat rare forms of childhood epilepsy that were resistant to other traditional drugs used to control seizures.
Encouraged by the results of the clinical trials undertaken on the path to FDA approval for this drug, researcher Dr. Stephanie McGrath, MS, DVM, DACVIM decided to lead a team or researchers to find out if this natural plant extract made from hemp might have similar benefits for dogs with idiopathic epilepsy.
Know the Difference: Hemp Oil, CBD Oil, and Hemp Seed Oil
Results from the first clinical trial, completed in in June of 2019, were reported as "promising." The small clinical trial included 26 dogs. One of the most interesting findings of the study was a clear correlation between blood concentration levels of cannabidiol and a reduction in seizure activity. It is important to note that dogs (both the test group and the control group)  in this study continued to receive traditional anticonvulsants during the trial.
A larger clinical trial on dogs with epilepsy is now seeking qualified participants: dogs with idiopathic epilepsy currently undergoing treatment with traditional anticonvulsant therapy. The study will use larger doses of CBD derived from hemp in order to see if a reduction in seizure frequency greater than 50% can be achieved.
It is important to note that this research on hemp oil and seizures in canines is still in the early stages. Pet owners are encouraged to talk with their
Before you purchase any natural products for your dog, it is critical to understand the difference between some similar products that can be found in the marketplace. Let's take a closer look:
Raw Hemp
Let's start with the basics. Plants in the cannabis family (along with some other plants, such as echinacea) contain a group of natural compounds known as cannabinoids. This is a large class of plant based compounds that includes as many as 80-120 distinct different types. One of these cannabinoids is THC, the compound that causes the psychotropic effect, or "high," in some strains of cannabis.
Hemp is a small family of plants in the cannabis family. However, by law, hemp is defined to have less than .3% of the compound THC. This is great news for pet owners since large amounts of THC can be toxic to our pets.
Hemp does, however, contain various amounts (depending on strain and quality) of other beneficial cannabinoids found in the cannabis family including CBD, also known as cannabis oil. Raw hemp is a legal product in the U.S. However, it is not always the best choice for pets for a few main reasons.
First, raw hemp for seizures in dogs can be a problem since accurate dosing of the precise amount of CBD is nearly impossible. Second, it is not clear how much of the CBD is actually absorbed, again, making accurate and consistent dosing difficult for vets. Finally, the source, strain, and agricultural methods used when growing hemp can have a major impact on the quality of the raw hemp available for purchase. These quality factors are hard to verify from a purchasing standpoint.
Hemp Seed Oil
Hemp seed oil for dogs is made from refining the seed of the hemp plant into an oil. Because the seeds are very low in cannabinoids, hemp seed oil has little if any cannabidiol (CBD). It does have potential value as a dietary supplement because it contains high amounts of fiber, and omega-3 and omega-6 fatty acids. In addition, it is thought to have antioxidant properties. However, since it contains no active cannabinoids, hemp seed oil is not at all helpful for the treatment of seizures in dogs.
CBD Oil and Hemp Oil
When the whole hemp plant is refined into an extract, it is often called hemp oil or CBD oil. Depending on the extraction methods and the quality of the raw strain of hemp used, the oil is generally rich in CBD, the cannabinoid found in highest concentration in the hemp plant.
The labels "Hemp Oil" and "CBD Oil" can refer to some of the same products. After all, both products are made from refining the hemp plant. However, unless otherwise noted, CBD Oil is usually an extract that has used special extraction methods to isolate the compound CBD, losing the other cannabinoids found in the hemp plant which are believed by many to support the healing properties of CBD. Researchers have called this "The Entourage Effect."
The benefits of using CBD oil or hemp oil for seizures in dogs, often sold in tinctures, is that responsible manufacturers will offer a guaranteed concentration of CBD, allowing for precise and consistent dosing.
Backed up by lab results, which you should verify before purchase, you can work with your vet to develop a precise treatment protocol that is consistent with your veterinarian's recommendation for dosing guidelines. Your vet may recommend that hemp oil is administered with traditional anticonvulsant drugs, or in some cases, as a substitute for pharmaceutical options which can have serious negative side effects.
Best Hemp Oil for Seizures in Dogs
If you decide to work with your vet to try hemp or CBD oil, there are some key guidelines to look for in the best hemp oil for dogs with seizures:
Full Spectrum: Look for a full spectrum hemp oil for dogs which contains other helpful cannabinoids found in hemp such as CBG, CBN, or CBC. Trace amounts of THC may also be in these full spectrum products, but not in enough concentration to be harmful to dogs.
Lab Results: It is critical to view lab results on the website before you buy. While some dog owners are happy to buy hemp oil off of the shelf at a pet boutique, unfortunately these products may not contain enough, or indeed any, actual CBD.
Money Back Guarantee: Since results with hemp oil can vary in each situation, look for brands that offer a money back guarantee so that if it does not work for your dog, you can get your money back.
Commitment to Animal Welfare and Education: Look for brands that demonstrate a commitment to animal welfare, such as LolaHemp, who offers a portion of proceeds to rescue organizations and offers well researched blogs and even a free eBook on the subject.