Whether you try it part-time or full-time, dog walking is an easy chance for pet lovers to make decent money doing what they love. Dog walkers earn roughly $15–18 an hour, with top earners surpassing $50,000 annually. And coming off pandemic restrictions, opportunities have reappeared for dog walkers as more pet owners are back in the office.
With all-new apps and technology catering to dog walkers everywhere, finding work and boosting your income is more convenient than ever. Explore the potential in store for 2023 with our updated dog walker salary guide.
---
How Much Do Dog Walkers Make?
Dog walkers don't make exorbitant amounts of money, but justifying the income is easy when doing what you enjoy. And sometimes, the earnings aren't an issue at all. Depending on where you live, you can make a lucrative, full-time business of it. Just ask dog walkers in NYC, where some savvy entrepreneurs are turning their love of pets into six-figure incomes!
An average dog walker can expect to make about $28,000–$37,000 annually. That works out to around $2,300–$3,100 monthly or roughly $500–$700 weekly. ZipRecruiter puts the national average at $2,671 per month,1 or $15 per hour, while Indeed's estimated rate is slightly higher at $17.83 per hour.2
Pricing typically goes by 30 or 60-minute sessions. According to HomeGuide, a 30-minute walk for a single dog will run about $10 on the low end, while top dog walkers can charge more than $35.3 Customers may tip extra for exceptional service, and if you're employed with a business, you may enjoy commissions or bonuses. The pay range varies widely, meaning dog walkers can maximize their rates with better service offerings and more experience.
Additional Services
Dog walkers often provide additional services to make life easier for pet parents at work or out of town. If you have the background, you can include training and grooming in your packages, which can often be more lucrative than the walking aspect of the job. Although they require more of a time commitment, extra offerings like pet sitting, overnight boarding, and house checks can bring in extra money when the dog walking business slows down.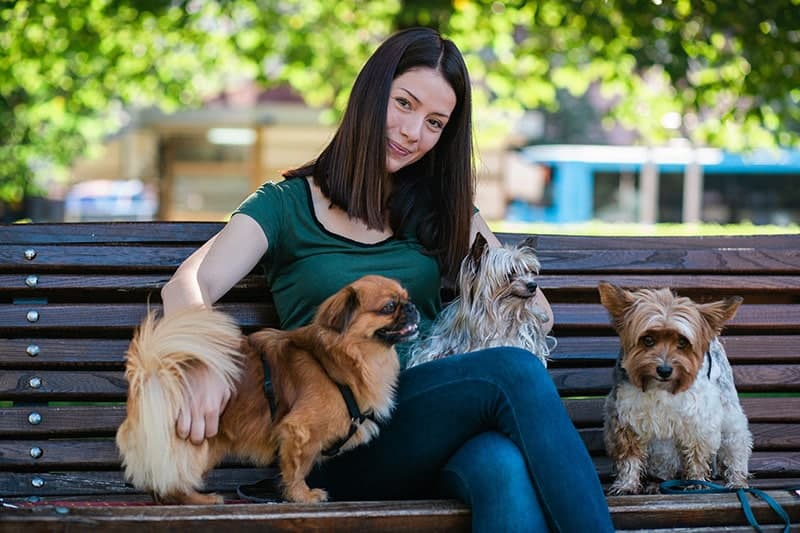 Costs of Being a Dog Walker
As independent contractors, dog walkers must consider several expenses while calculating their income potential. Taxes will be the most substantial expense, costing money and time. Dog walkers must be well-organized and thorough, staying on top of customer receipts and costs to run their business. You'll need leashes, toys, and supplies to do your job and operational and marketing investments to grow your business.
Common expenses include:
Website domain and hosting
Business cards
Business phone
Office space
Advertising
Transportation and liability insurance are equally crucial. All it takes is one claim from an owner or a third party to put you on the hook for thousands of dollars in damages, and with the low cost of basic dog walker insurance, protection is easy to work into any budget.
Dog walker insurance only costs $5–$25 per month. Much of the cost depends on the robustness of your service offerings and operation. As you expand, you may upgrade to a business owner's policy, which can cost $50–$100+ per month.
How Much Can I Make on Rover or Wag?
When you're breaking into the industry, there's comfort in services like Rover, Wag, and Barkly Pets. The apps do the marketing for you, making you visible to nearby pet owners in need. Once you get on board, you only have to stay available, act courteously, and do an excellent job walking dogs or pet sitting to get positive reviews and grow your business.
Walkers can set their rates and schedules with most services and enjoy features that make their job more efficient and secure. Some platforms include liability coverage when you work jobs booked through the apps and other perks like 24/7 support or vet service assistance.
There's no limit to the amount of money you can make through dog walking apps, and they're one of the easiest ways to get started and build clientele. The catch with any service is the membership and service fees. On the low end, you may pay less than $10 a month no matter how much you make, but with a service like Wag, you can expect to lose 40% in fees from each job.
Top Places for Dog Walkers
While dog walking services are in demand nationwide, some locales offer a higher earnings potential than others. For instance, cities offer higher hourly wages and more opportunities than rural areas. Certain states are also generally more advantageous for dog walkers.
The following are some of the places where you can expect a higher average wage:
New York
Washington
Hawaii
New Hampshire
Making Money as a Dog Walker
With apps like Rover helping burgeoning entrepreneurs, it's never been easier to break into the dog-walking industry. But don't take the convenience as a chance to coast by with minimal effort.
You can make excellent money when you take your dog-walking business seriously. A diverse service offering, skills and experience, and a friendly personality are crucial for building your client list and maximizing your income. Beyond that, you can help yourself considerably by following these essential tips:
Research dog walking rates in your area, and set pricing around the middle of the road
Create a website and Google My Business page
Make generous use of social media advertising
Network with local vets, shelters, groomers, and trainers to meet new customers
Develop a referral program for your clients
Offer multi-pet discounts
Keep scalability in the back of your mind. Dog walkers have gone from doing it as a side gig to operating a multi-employee dog walking and pet care company. It takes a ton of hustle at the beginning, but if you learn the industry and bring in professional help to make your business stand out, you can get a successful operation on auto-drive in less time than you'd imagine.
---
Final Thoughts
If you love dogs and want a fun way to make extra money, trying your hand as a dog walker is a no-brainer. The lull is over, and people are returning to life as normal. Jobs are re-opening as new owners seek assistance, meaning it's a perfect time for first-timers to get in the mix and make an impact immediately. Research how much you can make as a dog walker in your area, and put your love of pets to work!
See Also:
---
Featured Image Credit: SB Arts Media, Shutterstock