Ferrets are adorable, affectionate, and act much like a kitten, which makes them a popular pet. Contrary to popular belief, ferrets are not rodents; they are in the same family as the mink, the weasel, and the skunk. They are usually brown, black, or white (or some combination of those colors), and they love to chase each other around and play, which makes it fun to get more than one. If you are thinking about getting a ferret as a pet, here's what you need to know to take care of your new little buddy.
How to Set Up for Your Ferret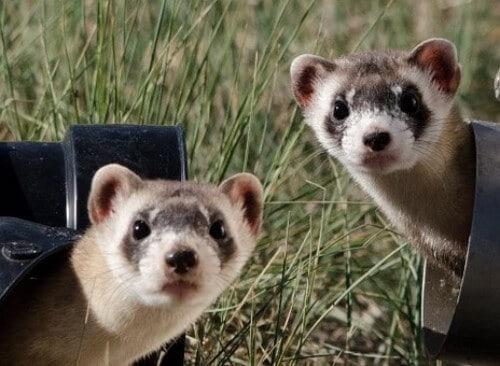 Purchase a wire mesh cage. For each ferret you are bringing home, you will need two square feet of floor space. So if you are getting two ferrets, consider getting a cage that is 24″w x 24″l. Your ferret will want to climb, so the should also be tall enough so he can climb around.
Buy a cat carrier or a carrying sack. When you need to take your ferret to the veterinarian, you will want to keep him contained in some sort of carrier. A cat carrier is the perfect size for a ferret. Another option is to buy a carrying sack.
Buy your ferret a bed. Ferrets like to be comfortable. They also like to be up off of the ground level. You can purchase a ferret hammock to hang in your pet's cage. He will climb up and sleep in it. Another option is to supply him with a small cat bed on the floor of the cage or elevated on a second level of the cage. Any pet bed you purchase should be easy to wash.
Purchase a food dish and a water bottle. Your ferret will be curious and playful, so a tip-resistant bowl and a water bottle will help keep the cage free from spills.
Buy a litter box designed for ferrets. Ferrets back up into a corner to eliminate, so you will need a litter box with high sides that slides into a corner. In addition, you'll need ferret litter, preferably paper pellets. Do not use clay-based cat litter for ferrets; it is not safe for them. Put down a few layers of newspaper or a puppy pad, then put down a thin layer of the paper pellets. If your ferret kicks out the pellets, you have made it too deep. Ferrets prefer a thin layer of litter; they don't cover their waste like a cat does, so they don't need more than an inch or so of litter.
Buy a harness and leash. Ferrets need time out of their cages each day. If you want to take your little one outside, you will need a harness and leash. Never let your ferret outdoors loose; he can rapidly become prey for large birds, neighborhood cats, bobcats, raccoons, and other types of wildlife.
Pick out toys that will keep your ferret entertained. Your new little pet is going to be curious and active. If you don't provide him with toys, he will steal items from around the house to play with. Look for a variety of toys that will keep him occupied both in and out of his cage.
How to Feed Your Ferret
Purchase ferret pellets. The best dry food to give your ferret is ferret pellets. Ferrets eat only meat and animal products (not dairy products), so ferret pellets are designed to contain no carbohydrates and to have enough protein and fat for your pet's good health.
Buy soft kitten food without carbohydrates as an alternative. If you cannot find ferret food, you can buy no-carb kitten food. Hard food can hurt her mouth, so you will want to look for soft kitten food that comes in rounded shapes. Note that food for adult cats is not nutritionally sound for ferrets. Also, avoid kitten foods with fish as a primary ingredient; ferrets don't eat fish.
Purchase soft, round kitten treats with chicken or lamb. You will want to give your new pet treats sometimes. She will enjoy soft kitten treats that have chicken or lamb as the first ingredient.
Choose snacks made with eggs or meat only. You can give your ferret chopped up chicken or scrambled eggs as a treat. Don't give her fruits, vegetables, or bread products.
Make sure your ferret has fresh water at all times. Check your ferret's water bottle twice daily and be sure that there is plenty of clean water available.
How to Pick Up Your Ferret
Support your ferret under the chest. You can slide one hand under his armpits to keep his front half supported.
Support your ferret under the bottom. As you lift your ferret, you need to support his bottom with a hand underneath.
Lift by the scruff of the neck while supporting the bottom. Mother ferrets pick up their babies by the scruff of the neck. If you are having a hard time getting a grip on a ferret, particularly a young one, you can gently lift him by the scruff of the neck, supporting his bottom the whole time.
Hold your ferret close to your body. Once you lift your ferret, hold him close to your body to prevent him from flailing or getting scared.
Use a carrying sack or a cat carrier. If you need to take your ferret somewhere, a cat carrier or a carrying sack is a great way to carry him without the risk of dropping him or having him squirm away.
How to Clean Your Ferret
Bathe your ferret once per month. Ferrets develop a musky odor and usually need to bathed monthly. Try not to bathe her more often that that.
Use just a couple inches of warm (not hot) water. Make sure the water is just a bit warm to the touch. It should not be too hot or too cold. Keep one hand on or under your ferret at all times when she is in the water.
Use ferret shampoo or baby shampoo to quickly lather up your ferret. After you get your ferret wet, lather her up with ferret shampoo, avoiding the head and face. If you don't have ferret shampoo, baby shampoo is an acceptable alternative. Use only a little shampoo, and rinse very well.
Use a soft, wet cloth to wash your ferret's head and face. Just rub or dab gently with a wet washcloth; don't get soap near your ferret's eyes, ears, nose, or mouth.
Towel dry your ferret. Use a soft towel to dry her off. She will probably want to run around and roll on the floor to remove any excess dampness. Don't put her in her cage until she is fully dry.
Brush your ferret each week to remove dead hair. Use a soft brush for her comfort. This will keep your ferret smelling better between baths.
How to Clean Your Ferret's Cage
Scoop wet litter and any solid waste out of your ferret's cage every day. You can use a cat litter scoop or a paper cup.
Replace your ferret's food and water daily, washing out the food dish and water bottle. Use a mild detergent and be sure to rinse and dry well.
Check your ferret's bed to be sure it's not dirty or wet; if it is, replace it. If your ferret has gotten her hammock or bed wet, you'll need to wash and dry it. Having a spare or two is a good idea.
Completely empty the litter box and wash it with detergent every week. Let it dry completely before refilling it with clean litter.
Wash your ferret's bed and toys weekly in the washing machine or by hand. Dry all toys completely before putting it back in the cage.
Clean the entire cage and any plastic accessories with a mild cleanser that is safe for ferrets. Wipe with a cloth or paper towels and make sure everything is dry before you put your ferret back.
How to Tell If Your Ferret Is Happy and Healthy
Check over your ferret each day. Look for clear eyes, a smooth and discharge-free nose, and clean ears. Ferrets often need to have wax buildup removed from their ears. You can use a soft cloth to do this or you can take your ferret to the vet to have it done if it is hard to remove.
Look at your ferret's teeth each week. Ferrets can sometimes lose or break teeth. While missing teeth are normal for a baby ferret, if your adult ferret is losing or breaking teeth, see your veterinarian.
Check your pet's skin and fur. Ferrets usually have thick fur and soft skin, but occasionally, some ferrets will develop flaky, itchy skin. If you have been bathing your pet more frequently than monthly, this could be a reason. If you haven't, make an appointment with your veterinarian.
Check your ferret's litter box. Stools should be firm and brown. If they are runny or discolored, this could be an indication that your pet is sick, so call your vet.
Check your ferret's behavior. Healthy ferrets sleep a lot (up to 20 hours per day), but when he is awake, he should be alert and playful. He shouldn't be aggressive, and most ferrets learn as babies not to bite. (If you have a baby ferret, you can teach him not to bite by saying "no" and walking away when it happens. Over time, he will learn that if he wants to play, he can't be so toothy!) If your ferret seems lethargic even when awake or if he is uncharacteristically aggressive, this could mean that he isn't feeling well.
Your ferret can bring you joy and companionship for up to a decade! Taking good care of your pet will raise the odds that he will live a long, healthy life. Enjoy your new little pet!