Nearly everyone has a cat lover in their life. If you have a devoted feline fanatic on your holiday gift-giving list this year and you're looking for a unique gift that reflects her adoration of cats, you've come to the right place.
We've rounded up 51 unique, top-rated gifts for cat lovers below. From shoes with cat print to blankets, pillows, apparel, decor, and more, we've covered every conceivable corner of gifts for cat lovers, from the useful to the useless, but quirky and hilarious. Our picks are listed below in alphabetical order for easy reference. Rating information is based on Amazon reviews and is current at the time of this writing.
Looking for dog lover gifts? See our list of The Best Gifts for Dog Lovers.
The 5 Top-Rated Unique Gifts
*Ratings are from Amazon at the time of publication and can change
1. Ambesonne Cat Lover Decor Collection, Shower Curtain Set with Hooks
Key Features:
Multiple designs available
3 sizes
100% polyester fabric
No liner needed
Machine washable
Includes plastic hooks
Cost: Est. $30 to $40 (depending on size)
2. AQOGQOGA Mouse Pad Cat Paw
Key Features: 
10.7 x 7.8 x 0.9″
Ergonomic support for all-day comfort
Soft silicone to relax the wrist
Cost: Est. $16
3. Arshiner Women Bear Plush Cat Paw Claw Glove Soft Winter Gloves
Key Features: 
One size fits all
Suitable for kids or adults
Coral velvet material
Cost: Est. $10
4. Art of Lunch Neoprene Lunch Bag by ART OF LUNCH
Key Features: 
Reusable, eco-friendly lunch bag
Made of 4mm thick neoprene
 12″L x 12″H x 6.5″W
Fits containers up to 7″L x 6″W
Insulates for up to 4 hours
Non-toxic, stain-resistant, and machine-washable
Lifetime guarantee
Cost: Est. $20
5. Ashrama Insulated Stainless Steel Water Bottle
Key Features: 
Food-grade stainless steel
Resistant to chemicals, rusting, and pitting
Leak-proof lid
Wide mouth with an affixed handle
Cost: Est. $25
6. Boston Warehouse 28571 Cat Fruit Bowl and Countertop Storage Basket
Key Features: 
Metal basket frame with black finish
Large capacity with a small footprint
Hand-washing recommended
Cost: Est. $17
7. Brainwright Cat Stax, The Perfect Puzzle
Key Features: 
Ages 8+
Comes with travel case
Engaging brain teaser game
Cost: Est. $11
8. Butler in the Home Animal Cat Shaped Paper Clips
Key Features: 
40 cat-shaped paper clips in a round silver tin
Great for cat lovers or any animal lover
Comes in a silver gift box
Cost: Est. $16
9. Buzz Shirts Sorry I cant..I Have Plans With My Cat Mens & Ladies Unisex Fit Slogan T-Shirt
Key Features: 
Unisex fit
S, M, L, XL, and XXL sizes
Money-back guarantee
Cost: Est. $6 to $13 (depending on size)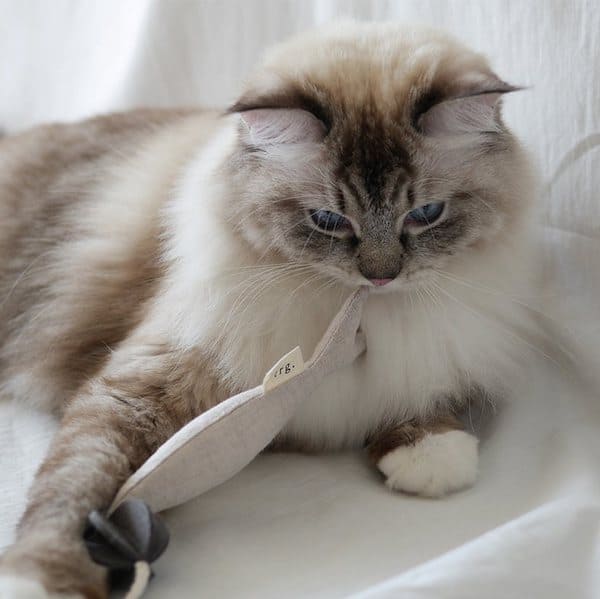 Using simple materials, this cat toy is an easy way to encourage your cat to hunt and chase. Created with cotton, birch and wool, it features calm, neutral colors for a modern aesthetic. Cats can chew on the durable birch rod or bat around wool components.
Key Features:
Durable
Made with natural materials
Hand-washing recommended
Cost: Est. $29
11. Cara's Casa Cat Trivet – Black Cast Iron
Key Features:
Trivet looks like a cat
Durable cast iron
Non-scratch feet
Use as drink coasters, a trivet, or wall decor
Cost: Est. $15/trivet
12. Cat is the Best Friend (Journal, Diary, Notebook for Cat Lover)
Key Features: 
Make 3D cat-shaped cupcakes
Set of 4 cat-shaped molds
Made of 100% PBA free USDA certified food-grade silicone
Can be safely baked and frozen hundreds of times
Cost: Est. $17
14. Crazy Cat Lady CAT BUTT Crochet Drink Coaster Set
Key Features: 
Set of 4 coasters
Handmade
About 5″ wide x 8″ tall
Hand wash with warm water
Cost: Est. $25
15. Decorbox Cotton Linen Square Throw Pillow Case
Key Features: 
Made of durable cotton linen cloth
18″ x 18″
Invisible zipper
Cost: Est. $7
16. DII Cotton Adjustable Men & Women Kitchen Apron
Key Features: 
28″ x 35″
One size fits most
Unique one-strap design with extra length to warp around neck and waist
100% cotton
Machine-washable
Cost: Est. $14
17. Elfeland Cute Kitty LED Light
Key Features: 
Clap & remote control operation
12 single color modes
7 additional modes including flash, strobe, fade, and smooth
Lasts 12-15 hours on a single battery charge
1200mAH Lithium battery
Micro USB charging cable
Cost: Est. $18
18. Evelots Over The Door Cat Double Hook Hanger
Key Features: 
2 hooks for hanging clothing, scarves, belts, etc.
Holds up to 20 pounds
Fits door widths up to 1.5″
Sturdy iron with a rust-free black coating
Cost: Est. $12
19. Gelid Best Cat Mom Ever Funny Wine Glass 15oz
Key Features: 
15-oz capacity
Dishwasher-safe
Stemless wine glass
Made in the USA
Cost: Est. $15
20. GUND Pusheen Cat Plush Stuffed Animal
Key Features: 
12-inch size measures 7.25″ H and 12″ L
Pusheen plush toy in classic pose brings adorable web comic to life
Surface-washable construction for easy cleaning
Suitable for ages 1+
Cost: Est. $10 to $220 (depending on size)
21. Hedaya Meow Quilt Set
Key Features: 
Handcrafted quilt set
Heirloom quality
100% cotton fabric
Cat print with timeless appeal
Cost: Est. $125
22. Helen de Lete Innovative Lovely Cat Kitty Sterling Silver Ring
Key Features: 
925 sterling silver
S Size 5.5; L Size 7
Size-adjustable
Cost: Est. $15
23. Hughapy Brown Cute Sleeping Cat Shaped Bedroom Area Rug
Key Features: 
Handmade with special embroidery
Choose from brown or gray tabby cat shape and design
33.5″ x 18″
Each mat comes with a Hughapy mermaid necklace
Cost: Est. $34
24. Jax Sequence Cats Game
Key Features: 
Ages 7 and up
Each card has a brief description of the cat shown
Easy to play
Cost: Est. $20
25. JJMax Women's Cute Kitty Cat Paws Socks with Paw Prints on Toes
Key Features: 
Bottoms of toes have pink paw prints
One size fits most: Women's 5-9 / Men's 5-7.5
4 colors: Russian Blue, Calico, Grey Striped, and Tabby
Choose this 4-pair set or buy individually
Cost: Est. $15/set of 4
26. Kederastyle Cats Pattern Embossing Rolling Pin
Key Features: 
Rolling pin cylinder size: 9 1/4″ x 2″
Total length: 14″
Made of natural wood
Eco-friendly
Laser-engraved
Cost: Est. $22
27. Kikkerland Cat Bag Clips, Set of 6
Key Features: 
Keep food fresh
Black and pink cat faces
1.75″ x 1.5″ x 1.25″ (each clip)
Cost: Est. $4 for 6 clips
28. Kikkerland Cat Butt Magnets, Set of 6
Key Features:
6 different breeds
Phthalate-free vinyl
Largest magnet measures 2″ .75″ x 1.25″
Cost: Est. $12 for 6 magnets
29. Koolkatkoo Surprise Kitty Coffee Mug with Baby Cat Inside
Key Features: 
Black cat mug with baby kitten inside
12-oz capacity
Dishwasher-safe, but not microwave-safe
Cost: Est. $20
30. LA PLAGE Women's Winter Warm Plush Animal Home Slippers
Key Features: 
Leather and rubber sole
Wool-like lining for warmth
Anti-skidding
Comfortable even for wide feet
Cost: Est. $18
31. LANG – Wall Calendar – "American Cat" – Artwork By Lowell Herrero
Key Features:
12 full-color images (January – December)
13.4″ x 24″ when opened
Moon phases and calendar grid for notes
High-quality paper
Cost: Est. $13
32. Late for the Sky Cat-Opoly
Key Features: 
2-6 players
Tokens include a milk bottle, mouse, sardines, cat food, fish, and ball of yarn
Ages 8 and up
Cost: Est. $18
33. Leggings Depot REG/PLUS Women's Best Selling Buttery Soft Popular Prints
Key Features: 
One Size (0-12), Plus Size (12-24), or Extra Plus
92% polyester, 8% spandex
Mashine-washable, but hand-washing is recommended
Other prints available
Cost: Est. $11 to $13 (depending on size/pattern)
34. MC Fashion Cute 3D Black MEOW Party Cat Kitty Whiskers Soft Silicone Case for Apple iPhone 6/6S
Key Features: 
Variety of cat styles available
High-quality silicone
Protects from bumps, scratches, and drops
Easy, comfortable grip
Cost: Est. $8.50
35. Mischievous Cat Massacre Garden Gnome Statue
Key Features: 
Tabby cat design
Handcrafted
Made of light, durable resin
Small enough to fit on a bookshelf
Cost: Est. $27
36. MIYA Plate 6.5 Cat Eyes Set of 4
Key Features: 
Made in Japan
High-quality porcelain
6.5″ diameter
Hand-washing recommended
Not microwave-safe
Cost: Est. $55
37. MLM Cute Cartoon Bedroom Eyes Cat Gel Ink Pen Rollerball Pens
Key Features: 
Black ink
0.5 mm rollerball
Choose from a set of 4 or set of 8
Cost: Est. $7/4 pens or $10/8 pens
38. Modern Minute's Fashionable Feline Chiffon Cat Scarf
Key Features: 
100% polyester scarf in allover cat print
22″ x 64″
Black with white print, tan with black print, or pink with black print
Cost: Est. $6
39. Moodycards
Key Features: 
20 different cards
Funny cat pictures and sayings on each card
100% happiness guarantee
Cost: Est. $10
40. Nacisse The Original Cat Beard Mug
Key Features:
Nose, mouth, and whiskers printed on mug
Handmade coffee mug
15-oz capacity
Cost: Est. $15
41. Primitives By Kathy 4 X 4 Wooden Box Sign: Yes, I Really Do Need All These Cats
Key Features: 
4″ x 4″
Black and white design
Hang on the wall or sit on a desk or shelf
Cost: Est. $10
42. QZUnique Women's Summer Fashion Top Handle Cute Cat Cross Body Shoulder Bag
Key Features: 
Multiple colors available
3 ways to carry it: top-handle/crossbody/single shoulder
Removable shoulder strap
2 outer pockets, main compartment with zippered pocket on one side and open flaps on the other
0.63″L x 7.28″H x 4.02″W
Cost: Est. $22
43. S.Leaf S925 Sterling Silver Cat Necklace Matte Silver Cat Pendant Collarbone Necklace
Key Features: 
Solid 925 sterling silver
Mirror-polish finish or matte finish
Nickel-free
Necklace: 40 x 5 cm; Pendant: 2.0 x 0.6 cm
Cost: Est. $24
44. SEVEN WALL ARTS – Modern Animal Artwork 100% Hand-painted Oil Painting Cute Cat Painting
Key Features: 
Cat wearing headphones or cat wearing glasses with fish
24″ x 24″, 32″ x 32″, or 40″ x 40″
100% hand-painted high quality oil paintings by professional artist
Each piece is unique
Stretched and framed
100% satisfaction guaranteed
Cost: Est. $55
45. ShungHO Beanie Hat Winter Warm Knitted White Cat Beret Cap
Key Features: 
Wool material
Says "Meow" on the front of the cap
7.87″, hat circumference 14.17-23.62″
One size
Cost: Est. $3.20
46. Skechers Bobs Plush Kitty Smarts Womens Slip On Flats
Key Features: 
Canvas with synthetic sole
Made in the USA
Easy slip-on construction with stretch panel
Pleated toe front
Several cat and dog prints available
Cost: Est. $16 to $79
47. Stonehouse Collection Funny Cat Theme Pads – 4 Assorted Kitty Note Pads
Key Features: 
Each pad measures 4.25″ x 5.5″
Designed and printed in the USA
50 sheets per pad
Funny cat themes
Cost: Est. $11
48. Tooarts Cat Shaped Wine Holder Wine Rack Shelf Metal Sculpture
Key Features: 
Metal carved and handmade craftsmanship
Environmental painting technology
Classic, timeless look
Functional gift
Cost: Est. $25
49. Umbra Zoola Cat Ring Holder, Chrome
Key Features: 
Rings slip over cat's long tail
Keeps rings safe and accessible
Cast metal with chrome finish
2-3/4″ x 2-3/4″ x 1″
Cost: Est. $10
50. Willow Tree With Affection Angel by Susan Lordi
Key Features: 
Each piece is hand-carved by Susan Lordi
5″ hand-painted figurine with wire wings
Sentiment on enclosure card says: "I love our friendship!"
Cost: Est. $21
51. Winterworm Cute Vivid Lovely Persian Cat Nonskid Thickening Iron Metal Bookends
Key Features: 
Choose from black, green, red, or white
4 pads on the bottom for anti-skid and scratch protection
Keeps books organized vertically
Cost: Est. $15
More Pet Product Reviews: 
The Best Cages for Guinea Pigs
The Best Dog Kennel Tray
The Best Heated Pet Bed
The Best Car Pet Barrier
The Best Dog Bark Control Collars
The Best Pet Camera Collar
The Best Dog Pee Pads
The Best Dog Vitamins
The Best Dog Raincoat with Hood
The Best Flea Powder