Just like humans, dogs can get cold, especially those who have short fur and were originally bred for warmer climates. If you live in a colder region or your pooch commonly shows signs of being cold, you might want to consider investing in a dog sweater. For smaller dogs, finding a sweater is normally pretty easy. In a bind, you can even use baby clothes. For large dogs, however, more specialized clothes are usually necessary. Luckily, there are a number of large dog sweaters on the market that are designed to be both fashionable and to keep your canine warm.
Not all large dog sweaters are made the same though; some are higher quality than others. We reviewed dozens of large dog sweaters while on the hunt for the best of the best. On our search, we took into account features such as style, sizing options, warmth provided, waterproofing, as well as a number of others to rank and compare products.
If you're looking for something more heavy-duty, look at our list of the best dog winter coats.
In the end, the American Flag Dog Sweater quickly overtook the competition. Even if you aren't a fan of the American flag design, the traditional knitted style is sure to fit anyone's taste. The 100% wool design is great for helping your pooch retain warmth, and the XL size fits dogs between 60-80 pounds. This sweater easily wins over the others in both practicality and fashion.
The 5 Top-Rated Large Dog Sweaters
*Ratings are from Amazon at the time of publication and can change
Our Top Pick: American Flag Dog Sweater
This American Flag Dog Sweater is one of the best dog sweaters on the market. It comes in an extremely stylish design, featuring an American Flag emblem in a traditional knitted-style. It even has a turtle-neck for maximum style. This sweater isn't just great on style, however. It is also extremely practical. The 100% wool design is thick enough to keep most dogs warm in the winter while also being breathable to keep dogs cool in the spring and fall. Plus, this sweater is longer than most, which helps your dog's behind stay warm as well. Many customers reported that this sweater helped their short-haired dogs stay warm while out taking walks in the brisk weather. If your pooch as recently had surgery or been shaved, this sweater is also a great option until their hair grows back.
This large dog sweater comes in six sizes: XXS, XS, S, M, L, and XL. The Xl size fits dogs between 60-80 pounds, while the large size fits canines between 28-40 pounds. Unlike some sweaters advertised for big dogs, this sweater fits the majority of larger dogs. Some customers stated that the sweater was a little looser than they would have liked. Though this feature might be helpful if your dog has recently undergone surgery and been shaved, if you want the sweater to fit snuggly, you might want to buy the smaller size if your canine is at the bottom of a range.
American Flag Dog Sweater Key Features:
100% wool
Fits 60-80 pound dogs
Knitted design
Organic plant dyes
Our Runner-Up Pick: Chilly Dog Boyfriend Sweater
If you're looking for a dog sweater mostly for aesthetic purposes, this might be the best option for you. The Chilly Dog Boyfriend Sweater is an extremely stylish option for male dogs. Of course, this sweater does help larger canines retain heat as well, though it is designed for mild winters and spring mornings rather than extremely cold conditions. Like our top pick, this sweater is also made of 100% wool. This composition means that it is both warm and breathable at the same time, so you don't have to worry about your pooch getting too sweaty and hot should you take a detour to somewhere with heating. This makes this sweater especially useful for car rides on a winter's day, where your pooch will likely be moving from the heated car to the cold outside often.
This sweater comes in eight sizes ranging from XX-small to XXX-large. This allows you to pinpoint which size your dog needs. It is important to point out that this sweater is rather long, and some customers claimed that it was too large for some of their stouter dogs. If your dog is longer, you should have no problem. However, if you have a relatively short breed, you might want to look elsewhere or prepare for the sweater to possibly be too long.
Chilly Dog Boyfriend Sweater Key Features:
100% wool
Fits 40-62 pound dogs
Hand-knitted
Best Budget Pick: Fashion Pet Classic Cable Dog Sweater
Need to get your cold dog a sweater but don't want to spend an arm and a leg? The Fashion Pet Classic Cable Dog Sweater is a great option for pet owners on a budget who need to purchase their pooch a nice sweater for the colder weather. This sweater is far cheaper than the competition, but still maintains a high level of quality.  It is made of 100% acrylic, which does a decent job of helping your canine retain warmth in cold conditions. Plus, it is machine washable and dryable, unlike many of our top picks. This sweater even comes in two colors: blue and red. However, many customers reported that the red looked more like an orange, so you might want to keep that in mind when making your purchase.
Customers reported that the sweater was a great value for the price, though it probably isn't as high-quality as more expensive sweaters for obvious reasons. This sweater is great if you're on a tight budget or only plan on using the sweater for a short amount of time, such as on vacation or just until your dog's fur grows back. If you're planning on extensive use or looking for a sweater that will last for years, you might want to purchase one of our other top picks instead.
Fashion Pet Classic Cable Dog Sweater Key Features:
100% Acrylic
Machine washable
7 sizes
Best Dog Hoodie: PAWZ Road Large Dog Hoodie
The PAWZ Road Large Dog Hoodie was made for dogs who needed a hand withstanding cold winter conditions. It features a hood that can be pulled up to protect your dog's neck and ears. This is extremely helpful if your canine is a breed that is prone to ear infections since cold weather can often irritate the ear canal and pave the way for infection. Unlike many other large dog sweaters that are only designed for mildly cold weather, this sweater is made to retain heat and keep your pooch warm snow and high winds. It is designed with two layers of fabric. The outer layer helps keep the elements away from your pooch's skin while the inner layer effectively traps your dog's body heat.
Customers particularly loved how durable this sweater was. It is made to withstand hiking and camping trips and holds up quite well against the elements. Customers also noted that the sweater fit appropriately, but many of them did recommend measuring you pooch carefully before choosing a size. If you choose the wrong size, it is likely that the sweater will end up being too long. This sweater truly fits large dogs. The XL size is designed for extremely large breeds, such as Great Danes. Many customers reported that this sweater did fit these large dogs like advertised. When a sizing complaint popped up, it was usually because the sweater was too large. If in doubt of what size to get, we recommend choosing a smaller size.
Best Dog Vest: Big Dog Harness Vest
Large dog vests often have a vastly different use than dog sweaters. While a dog sweater is designed to keep a dog warm and be stylish, a dog vest is usually created to be used alongside a leash. Attaching a leash to a dog vest instead of directly to a collar cuts back on tugging and prevents damaging a dog's airway, which is especially important for breeds of dogs with smaller, "squashed" snoots. Many dog owners who use dog sweaters in the winter switch to dog vests in the summer when heat retention is not necessary. If this is what you're looking for, the Big Dog Harness Vest is the best option for you.
This harness vest is made to fit larger dogs and comes equipped with adjustable straps to customize the fit to your specific dog. Its specific design prevents excess pulling by evenly distributing pressure along your dog's back, which prevents choking and dangerous airway obstruction. This feature makes this vest a great option for canines who are just learning to walk on a leash and are prone to pulling when excited. The quick snap buckles even make the vest easy to take on and off, which is perfect for the excitable puppy or prone-to-running older dog. For maximum security, this vest even comes equipped with a sturdy handle in case your pooch decides he wants to take off before the leash is attached.
Big Dog Harness Vest Key Features:
Prevents excess pulling
Easy buckle system
Reflective
Sturdy handle
Who Should Buy a Large Dog Sweater
The rise of selective breeding and mass transportation means that different dog breeds now span across the world. Anyone can now find a husky puppy to adopt, even in hotter climates where the husky isn't particularly suited. At the same time, anyone can adopt a short-haired dog from a local shelter, even if you live in a colder climate. This has created the problem of short-haired dogs being unprepared for harsh northern winters. They were simply not bred to live in colder climates and might need a little help from a dog sweater to be comfortable outdoors in the cold. If you have a larger dog that has short hair or has otherwise not been bred to deal with the cold very well, a sweater can help your canine stay warm.
A large dog sweater might also be helpful if your big canine is going to be undergoing surgery or needs to be shaved for some other reason. When a dog goes from having a full coat of fur to being shaved, they can easily get cold even if you live in a warmer area. A sweater can help them adjust to living without their fur and keep them protected until it grows back.
Important Features to Consider
A sweater for a large dog should have a number of features. Here are a couple of things to keep in mind when selecting a sweater for your larger dog:
Heat retention. Some dog sweaters are designed with only fashion in mind and don't do much to keep your dog warm. If you need a sweater to keep your canine warm, make sure to purchase one that is designed to retain body heat. Often, you can figure out how much heat the sweater retains by checking the customer reviews and looking at what the sweater is made out of. Multi-layer sweaters are usually best at retaining heat, though knitted sweaters can be useful in mild conditions as well.
Material. If you only take your canine on short walks, you probably don't need a heavy duty sweater. But, if you're very active with your canine or go on long treks in the woods, a heavy duty dog sweater is probably going to give you the most mileage. A wool, knitted sweater is probably not going to be best if you're going hiking, but might work great if you're just going on a walk. Try to match your activities with the material of the large dog sweater you are going to purchase.
Ease of cleaning. Anything you put on your dog is going to get dirty. A sweater is not different. Dog sweaters that are machine washable are probably going to be your best option when it comes to keeping your new dog sweater clean. Otherwise, looking for sweaters that are made to be whipped down easily or are stain-resistant.
Style. This feature is going to be more important to some people than others, but everyone should make sure that the sweater they purchase is at least somewhat to their tastes. If you hate the color blue, don't buy your pooch a blue sweater. If you don't live in the U.S., you probably don't want to buy a sweater with the United States flag on it. While the sweater doesn't necessarily have to completely match your style to keep your dog warm, you probably aren't going to put your dog in something that you despise.
Element-resistant. Some materials and sweater designs are better at keeping out the elements than others. If you're planning on taking your dog out in the rain and snow, you probably want a sweater that was made to handle that kind of weather. Wool is probably not your best option in these cases. But, if your pooch only needs a sweater to travel to and from the car on colder days, wool is probably the best option for you due to its breathability.
Frequently Asked Questions
What temperature is too cold for a dog?
How lower the temperature gauge can fall before your dog starts experiencing adverse effects depends on their specific breed and traits. Dogs with longer, two-layered coats are better at withstanding colder temperatures than those bred to thrive in the heat, such as greyhounds. Coat color can also play into what temperatures your pooch can withstand. Those with darker-colored coats are usually better at withstanding colder temperatures simply because their fur absorbs more sunlight. Size as well can play a role. Smaller dogs have more skin-per-pound that they can lose heat through. This trait makes them cool down faster than larger dogs, who are generally better at withstanding colder temperatures. You should also factor in conditioning when deciding what temperatures your dog will be comfortable in. A dog that's lived in Alaska their whole life is probably going to be used to colder temperatures, but a dog vacationing in Alaska might not be.
Generally speaking, you should start watching your dog for signs of cold aversion when the temperature drops below 45 F. At 32 F, dogs who are not made to survive in colder conditions might begin to experience some adverse effects and should be brought inside. The same is true with particularly old, young, or sick dogs who might not have the physical strength to weather the colder conditions. When the temperature drops under 20 F, all canines should be watched closely for signs for frostbite and hypothermia.
How do you know if your dog is cold?
The first sign that a dog is cold is shivering. A canine who is cold will also begin searching for a warmer location and might begin scratching or whining at the door to get inside. A dog who has been cold for a while will begin to get anxious and will up their attempts to find a warmer location. Often, dogs will begin whining excessively at this stage as well. In extreme cold or after remaining cold for a long time, a dog will begin to experience hypothermia and frostbite.
Do dogs need sweaters in the winter?
Not all dogs are going to necessarily need a sweater in the winter. If your climate is not particularly cold or if your canine is bred to handle colder temperatures, you can probably get away with not purchasing your dog a sweater. However, smaller or particular cold-averse dogs would probably benefit highly from wearing a sweater when the temperature starts to drop. Plus, a sweater in the winter probably couldn't hurt!
What size sweater does my dog need?
This depends on the particular brand of sweater you're buying. We suggest checking a sweater's sizing chart before choosing a size and measuring your dog carefully. Don't assume that your canine is a large just because you consider them a larger dog. Many sweaters have multiple large sizes to better accommodate a wide-range of dogs.
Other Large Dog Sweaters We Reviewed
We also looked at 20 other sweaters for large dogs. Even though these didn't make the top five list, they are still the best of the rest and worth considering. All the information you'll need for comparison is included in each listing.
Dog Hoodies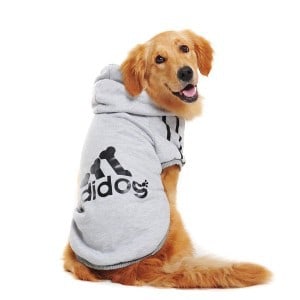 Designed for larger dogs, this hoodie goes up to the size 9XL to provide a perfect fit for bigger canines. If you have an extremely large dog or just want to make sure the hoodie you purchase fits correctly, this is the product to get.
Key Features:
Goes up to 9XL
Comes in 3 colors
100% cotton
Cost: $11
BINGPET Blank Basic Dog Hoodie
With a comfortable and breathable design, this hoodie is a great choice for dogs that spend a lot of time moving between a warm location and the cold outdoors.
Key Features:
Machine Washable
Ribbed sleeves and waist
65% cotton and 35% polyester
Cost: $12
Casual Canine Cotton Camo Hoodie
Featuring a classic camo pattern, this dog hoodie is stylish while also remaining practical.
Key Features:
Machine-washable
Kangaroo pouch
Available in 3 colors
Cost: $19
Ellie Dog Wear Adventure Dog Hoodie
This hoodie is adjustable, which makes finding the perfect fit for your dog much easier. It also comes with a sturdy Velcro pocket on the back to hold whatever you might need to!
Key Features:
Adjustable
Velcro pocket
Harness Friendly
Cost: $30
Zack & Zoey Basic Hoodie for Dogs
With ribbed sleeves and hem, this dog hoodie provides maximum comfort while also keeping your dog warm in colder climates.
Key Features:
Ribbed sleeves
Kangaroo pocket
Machine washable
Cost: $18
Dog Vests
This vest was designed to be unbreakable for maximum safety. After all, the last thing you want is for your dog to break off their harness and take off running.
Key Features:
Alloy metal buckles
Adjustable
No pull design
Cost: $38
Customers loved this vest's unique bulking system, which many claimed made it extremely easy to take the vest off and on.
Key Features:
Quality nylon construction
Adjustable
Lock buckle system
Cost: $17
Featuring a tactical military design, this vest is made with 1000D nylon for maximum durability and is completely adjustable for a perfect fit.
Key Features:
Adjustable
Available in 4 colors
Comes in XL
Cost: $38
With an easy on-off design, this vest is easy to take on and off your canine while also being adjustable to ensure a perfect fit.
Key Features:
Adjustable
No pull design
2 sturdy metal leash attachments
Cost: $22
Voyager All-Weather Mesh Dog Harness
We know that getting your dog to put a vest on can be difficult! This vest by Best Pet Supplies makes it easy with their simple step in design. No more worrying about buckling the straps as your dog tries to rush out the door.
Key features:
Step in design
Comes in lots of colors
Made for all weathers
Cost: $13
Wool Dog Sweaters
Chilly Dog Cowichan Squirrels Sweater
This sweater features a stylish design without compromising heat retention.
Key Features:
100% wool
Hand-knitted
Fits dogs 60-85 pounds
Cost: $33
Chilly Dog Little Monster Sweater
Made of 100% wool, this large dog sweater is designed to be stylish and breathable for quick excursions outside.
Key Features:
100% wool
Fits dogs 80-120 pounds
Organic plant dyes
Cost: $15
If you're looking for a stylish option for your pooch, this sweater is a great option. It is made with 100% wool and is hand-knitted.
Key Features:
100% wool
Hand-knitted
Extremely Warm
Cost: $30
Turtleneck Stripes Dog Wool Sweater
Featuring a classic design and a 100% wool construction, this sweater is great for indoor use and short excursions outside.
Key Features:
Classical design
100% wool
Rib knitting
Cost: $11
Other Dog Sweaters
This large sweater for dogs features an adorable Nordic design that is bound to win the heart of any pet owner. Plus, it is machine washable and made with 100% acrylic fibers.
Key Features:
100% acrylic fibers
Machine-washable
Fashionable design
Cost: $16
Classic Cable Sweater for Dogs
Designed for everyday use around the house, this sweater is made with 100% acrylic and lined with comfortable cotton.
Key Features:
100% acrylic and lined with cotton
Knitted design
Well-made
Cost: $19
This sweater is both reversible and water-proof, featuring easy Velcro closures and durable stitching. For a sweater that performs in all conditions, get this one.
Key Features:
Fits dogs 60-100 pounds
Polyester design
Velcro closures
Cost: $20
Reindeer Holiday Sweater for Dogs
Now your dog can compete in the ugly sweater contest as well! With a classical "ugly sweater" design, this sweater is sure to be stylish while also keeping your pooch warm.
Key Features:
100% acrylic
Machine-washable
Ugly sweater design
Cost: $14
Customers loved the simple design of the sweater, which features a timeless sweater pattern and acrylic fibers.
Key Features:
Striped design
Turtleneck
Made of acrylic fibers
Cost: $19
More Pet Product Reviews:
The Best Pig Ears Dog Treats
The Best Cat Backpack
The Best Bike Carriers for Dogs
The Best Dog Dresses for Small Dogs
The Best Calming Aid for Cats
The Best Pet Carrier
The Best Anxiety Wrap for Dogs
The Best Puppy Shampoo
The Best Treadmill for Dogs
The Best Dog Sweater