Do you want to provide your dog with the benefits of a diet made from minimally processed ingredients but don't have the foggiest idea where to begin? Help is at hand! The Farmer's Dog will do all the hard work… with a little input from you.
The Farmer's Dog is a service that sends you food that is formulated for your specific dog and what he needs. The company prides itself on sending fresh, delicious, and human-grade meals that are nutritionally balanced for the individual canine who will be eating it. Because everything is customized and the food is fresh, you can feel good about knowing that your dog is getting the nutrients he needs for good health.
Our Score for The Farmer's Dog
What We Like
Available in three flavors (turkey, beef, and pork)
Customized to your dog's needs
Flexible delivery options
Trial box available
Human-grade ingredients
Made in human-food kitchens
What We Don't Like
Not packaged in single servings
Storage bags are not resealable
Some reports of unreliable shipping
Important Features
Portioned by the day. Each bag will contain enough food for one day; for most dogs, this will mean splitting the portion in half or in thirds.
Formulated by board-certified veterinary nutritionists. You'll answer questions about your dog, and the experts on-staff will get to work creating a diet plan that meets his calorie and nutritional needs.
No preservatives. You will need to keep the food frozen or refrigerated.
Contains real ingredients. All of the ingredients are safe for humans to eat. You won't see any dried pellets or unrecognizable ingredients because The Farmer's Dog is made from real food.
Delivered within days. The food isn't deep-frozen or stored on a shelf, so it is as fresh as possible when it arrives at your door.
Eco-friendly packaging. If environmental friendliness is important to you, you'll appreciate being able to reuse and recycle the packaging.
How Much Does It Cost?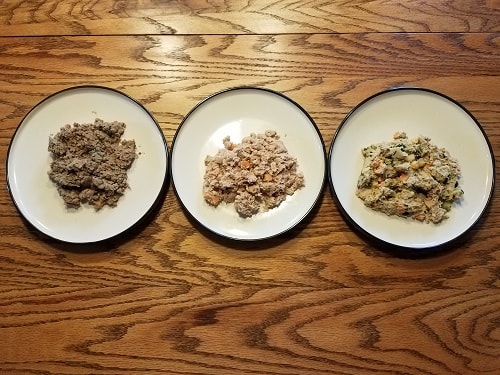 The cost of The Farmer's Dog food will depend on the size of your dog and how much of the food you order. I filled out the order form for a hypothetical dog weighing 50 lbs with an active lifestyle and no health problems. The cost came to $6.14 per day or $53.75 per week.
When I changed the hypothetical dog's weight to 15 lbs, the price came out to $3.40 per day, or $29.78 per week, and when we used 80 lbs as his weight, the cost became $10.37 per day or $90.77 per week.
More About The Farmer's Dog
The Farmer's Dog was started after two dog dads became frustrated by the lack of quality in the dog foods they were buying. Fed up that highly-processed, low-quality kibble was marketed as "healthy," they set out to create something more nutritious for their dogs (and for your dogs!). From there, the idea was born that dogs don't have to eat commercialized kibble in order to be healthy and, in fact, they could be healthier without that type of food in their diets at all.
The duo worked with veterinary nutritionists to make it possible for dog owners to easily give their fluffy companions "real, healthy, fresh food." That's why all of The Farmer's Dog's meals are specially formulated for dogs with 100% human-grade ingredients. They're also prepared in human-food kitchens.
Another feature that's worth drawing attention to is the fact that each meal is pre-portioned to your dog's weight, breed, activity level, and more.
How It Works
The online process starts with an impressive series of questions—the number of dogs you have, their names, ages, spay/neuter status, weight, breed (mixed is just fine), body condition (helpful diagrams are provided), ideal weight, activity level, eating style, health issues, current diet, and more. All of this is designed to help the folks at The Farmer's Dog put together options that are well-matched to your dog's particular needs.
I ordered for Amber, a 2 year old, female spayed mixed breed who weighs about 60 pounds (don't tell her, but she's a little overweight).
Once you're done with the questionnaire, you get to pick the diet(s) that you'd like to try. Amber received all three options:
The Beef and Lentil Recipe (32% protein and 24% fat on a dry matter basis)
Pork and Sweet Potato Recipe (39% protein and 25% fat on a dry matter basis)
Turkey and Parsnip recipe (32% protein and 18% fat on a dry matter basis)
The shipping process proceeded without a hitch. I got the notification that the food was on its way, and it arrived a couple of days later, still frozen absolutely rock-solid thanks to the inclusion of dry ice and the biodegradable insulation lining the box.
The food is packaged in pouches, each of which contains enough for one day. It has to stay frozen or refrigerated due its lack of preservatives. The instructions included with the shipment recommend keeping three pouches in the fridge to defrost while the rest remains in the freezer. If you need to defrost some food quickly, simply soak an unopened pouch in some warm water for a few minutes; that's what I did.
The Farmer's Dog trial box contains enough food to last two weeks. While this isn't enough time to fully evaluate a diet's effect, it does allow you to gradually transition your dog from their old diet and determine if any changes are needed.
One Important Suggestion
I do have to take slight issue with the transition recommendations included with the trial box of food. The company recommends that you start by mixing new and old food 50:50 and that if your dog develops GI upset at the beginning of the transition period, "continue to feed that same amount of fresh food and monitor the situation for a day or two." While this may work for some dogs, I recommend you start by mixing in a smaller amount of the new food, and if GI upset develops at any time, go back to the original diet for a few days. When your dog is ready, restart the process more slowly.
The Final Verdict
I can say that The Farmer's Dog looks like a good option for owners who are looking for a fresh dog food. The company says that all of their ingredients are human-grade and that "board-certified veterinary nutritionists carefully formulate each recipe to be 100% complete and balanced according to AAFCO standards." Why not order a trial and see if it makes a difference to your dog's health and well-being?
Want to learn more about healthy options for your dog's diet? Check out our list of The 25 Best Raw Dog Foods as well as our review of The Best Dog Food Delivery Services.
See Also: Farmer's Dog vs. Spot & Tango Comparison