Are you planning to add a cat to your family? Adopting a kitty is a great way to show an animal love while enjoying all of the pleasures that come along with cat-ownership. It's best to be well-prepared before you bring any pet into your home; preparation will help your new cat to stay happy and healthy as she acclimates to your household and becomes a true member of the family. We have created a Cat Adoption Checklist for individuals and families who are planning to bring home a new kitty. We encourage you to check it out and to read on to learn more about getting ready for your new feline family member.
Get Your Home Ready for Your Cat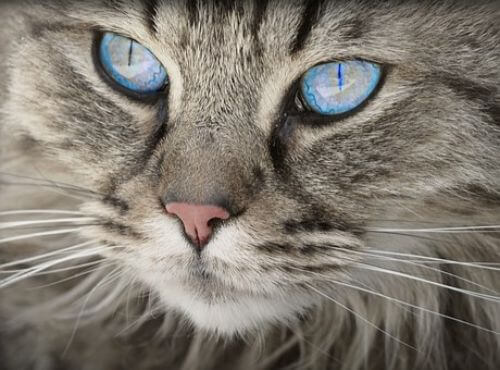 Before you bring your kitty home is the best time to cat-proof the area. Preparing your home does double-duty: It keeps your cat safe while also protecting your belongings. Look around your home from the perspective of a cat. If you can, get down on the floor and look for items that might attract a curious kitty. Electrical cords, small items that could be choked on, and toxic plants can all be hazardous. Move these items out of the way and replace them with safe cat toys instead.
You'll also want to look at your flat surfaces. Remember that cats jump and climb; it's very unlikely that your new family member will stay put on the floor! Look for hazards higher up. These might include unstable furniture that could topple over and balls of yarn kept on a shelf (kitty could choke or become entangled).
Find a Veterinarian for Your New Kitty
Within the first few days of bringing home your cat, you will want to take her to the veterinarian. Your vet can check over the cat, see whether she's healthy, administer any vaccines she hasn't had yet, and answer any questions you may have. Your vet will also be able to tell you if your kitty is a healthy weight and schedule an appointment for follow-up treatments or a spay or neuter appointment. All of these things are needed to keep your cat healthy.
If you already have a vet whom you trust, then that's who you should bring your cat to. If not, ask for recommendations from friends or on your local social media pages.
Purchase the Essentials
There are some items you will need to purchase to keep your cat healthy and happy in your home. There are also some optional items you might want to buy. Your cat will need food, a food dish, and a water bowl. Treats are a nice extra (though if your new cat is overweight, you'll want to minimize these until she's at a healthier weight). Your cat would probably enjoy a soft bed. If your cat will be indoors only, you'll want to invest in a couple of litter boxes and, of course, cat litter.
Toys are fun for you and your cat and can also protect your belongings by keeping your cat entertained so she isn't as likely to scratch furniture or chew on items that she finds. A scratching post is a must if you don't appreciate the look of cat scratches up and down your sofas and chairs! You'll find more advice on what to buy for your cat in our Cat Adoption Checklist.
Spend Time Helping Your New Furbaby Get Used to Home
When you bring home your kitty, it's best if you can spend some time helping her to get acclimated. Show her where her litter box and food and water dishes are. Usually, you will only have to show a cat once or twice before they learn where to go for these needs. Don't crowd your cat at first. She will likely be timid, so give her some space. If you have other pets, it is best to keep them separated for at least a few days so they can get used to each others' scents and noises.
Help her get used to you by grooming her. Brush her gently and coax her to cooperate with cat treats. You can also use grooming gloves to remove excess hair while petting her. Use daily care to help her learn to trust you and very soon, she will be your best friend.
For more tips, please download our Cat Adoption Checklist. It has a lot more information on preparing for your cat and keeping her healthy. You can also look for a book on cat care to help you as you discover your new pet's personality and needs.