Finding a dog food that's an excellent fit for your dog (i.e., they're willing to eat it and you like the ingredients) can be a battle, especially if you consider the types of ingredients that often go into regular dog foods. If you're looking for something healthier for your pup that has fewer added things like preservatives, you might want to consider fresh food for dogs. You could make your own dog food, but that would take up way too much time, so why not look into companies that offer fresh food instead?
Two of the top fresh dog food brands around are Just Food For Dogs and The Farmer's Dog. Both use fresh ingredients to make freshly cooked meals that contain no additions, such as preservatives. That makes them much healthier for your pet (and wonderful for dogs with stomach issues or food sensitivities).
To figure out which is best for your pup, take a look at our quick rundown and comparison of the two!
---
A Sneak Peek at the Winner: Just Food For Dogs
Before we begin, take a sneak peek at our winner: Just Food For Dogs! Just Food For Dogs has a wider range of dog food recipes from which to choose and can be more easily customized for your pet. They also offer free nutrition counseling and tons of information on their website about their foods and how they make them.
Our two favorite recipes from them are JustFoodForDogs Beef & Russet Potato Recipe Fresh Frozen Dog Food and JustFoodForDogs PantryFresh Chicken & White Rice Recipe Fresh Dog Food. Keep reading to discover why!
---
About Just Food For Dogs
Just Food For Dogs was launched in 2010 by Shawn Buckley in response to what he discovered about ingredients being put into his dog's regular foods and how the pet food industry worked. This fresh dog food company aims to provide complete nutrition for dogs, thus improving the longevity and quality of their lives. They do this by creating healthy food for dogs, prescription diets for dogs with specific illnesses, and customized meals for those who are sick. They also offer DIY kits so you can make dog food on your own!
Where to Get
With the majority of dog food companies making fresh dog food, you'll find yourself having to sign up for a subscription service that delivers the food to your door. That's not the case here! Instead of going through the trouble of setting up a meal delivery schedule, you can instead purchase Just Food For Dogs at Chewy.com, Pet Food Express in California, Petcos across the nation, vet clinics and hospitals, and Just Food For Dogs' own retail kitchens. You can also order straight from their website.
Nutrition
Just Food For Dogs makes whole, balanced, fresh meals for dogs. That means they use real foods that haven't been processed, so they can retain the most nutritional value for your pet (it means food is a bit pricier than regular dog foods). Because dogs can't get every nutrient they need from food only, meals contain added supplements intended for human consumption that provide better quality nutrients. All meats used in Just Food For Dogs meals have been USDA-approved, while the majority of their ingredients are sourced from premium restaurant suppliers. All of this means your pet is getting the best (and most) nutrients possible in each meal—though these aren't necessarily shelf-stable meals.
Never fear! Just Food For Dogs also has shelf-stable meals that will last up to 2 years via their Pantry Fresh line. These meals offer the same fresh ingredients and lack of preservatives but are handled a bit differently to retain shelf stability.
Another perk of Just Food For Dogs is that they are (at least currently) offering free remote nutrition consultations, so you can learn more about their food and how it can improve your pup's life.
All Just Food For Dogs recipes meet AAFCO and the National Research Council standards.
Website
You won't want to visit the Just Food For Dogs website purely for ordering food; you'll want to check out the copious amounts of information they have about their food as well. Transparency seems to be pretty important to the company, as they have a page with the names of all the vets and specialists they work with in formulating their foods, a page about the research, trials, and studies they've done to improve their dog food, a large list of frequently asked questions, and more. Pretty much anything you'd ever want to know can be found on their site.
Pros
Doesn't require a subscription service
Transparent website
Free nutrition consultation
Whole foods used in recipes
Cons
Pricier than other dog foods
Have to be in California to visit their kitchens and see how things are done
---
About The Farmer's Dog
The Farmer's Dog also makes freshly cooked meals for dogs, but it's subscription only. It was created by two friends (Brett and Jonathan) after Brett's dog had digestive issues that were cleared up by home cooking. They work with veterinary specialists and use years of research to plan and cook their dog food recipes, so they can provide nutritionally sound meals for your pet.
Where to Get
Because The Farmer's Dog is a meal delivery subscription service, you can only order food from their website. To do that, you'll answer a few simple questions about your dog, such as what their weight is, how active they are, and whether they need any kind of special diet. Then you'll get your customized meal plan recipes (which you can change at any time). Unfortunately, you aren't able to see what recipes The Farmer's Dog has until after you go through that process. You also won't get pricing details until then either (pricing is different for each dog as each has different needs).
Nutrition
All The Farmer's Dog recipes are made fresh and in USDA kitchens. Meals are gently cooked via low temps to retain nutritional value, then flash-frozen so they can be safely shipped to your door. The company only uses human-grade ingredients that meet the standards of the USDA—ingredients that come from local farms and reputable suppliers. This means each recipe uses clean proteins and simple produce and is supplemented to be vitamin and mineral balanced.
The downside of all this freshness is that the lack of preservatives means the food isn't shelf-stable, so you can't just keep meals around to feed your pet in the future as they'll go bad.
The Farmer's Dog meals all meet the standards of the USDA and AAFCO.
Website
The website for The Farmer's Dog isn't as great as the one for Just Food For Dogs. They seem to be a bit less transparent, making it more difficult to find what you want to know. For example, to see further in-depth information about the ingredients used in their meals, you have to go down to the very bottom of the website and find the digest label, click on it, then search for what you're looking for. The digest (or blog) does seem to have good info, but if you're not the type who looks at every single thing on a website, you'd be hard-pressed to locate it. Their main pages do an excellent job of telling you about the negatives of regular dog foods and convincing you their food is much better, but it doesn't do much more than that.
One interesting thing (if you can find it) on their website is the information about their DIY dog food recipes that give you a chance to make your dog's food yourself with a bit of help from them.
Pros
Freshly cooked, nutritionally sound meals
Can help you make your own dog food
Customized meal plans
Cons
Requires a subscription
Website needs improvement
Meals aren't shelf-stable
---
3 Most Popular Just Food For Dogs Dog Food Recipes
Want to know more about Just Food For Dogs recipes? (Of course, you do!) Here's a look at three of their most popular meals.
1. JustFoodForDogs Beef & Russet Potato Recipe Fresh Frozen Dog Food
This limited ingredient, high-calorie food is great for dogs with food sensitivities or digestive issues, as well as those that need to gain weight, are highly athletic, or just super picky eaters. In fact, several pet parents commented on how much their picky eaters loved this!
Main ingredients include beef, russet potatoes, green beans, sweet potatoes, carrots, and apples; however, be aware that this food also contains peas, which have been linked to heart disease in dogs (but more research is needed on the subject).
As a meal formulated by vets, nutritionists, toxicologists, and dermatologists, you can rest assured that the Beef & Russet Potato Recipe is not only nutritious but safe for your pet to eat.
Pros
Great for picky eaters
Created by a host of experts for utmost food safety
Good for pups that need to gain weight
---
2. JustFoodForDogs PantryFresh Chicken & White Rice Recipe Fresh Dog Food
One of Just Food For Dogs' shelf-stable meals, this Chicken & White Rice recipe is shipped in Tetra Pak packaging so you can keep it for up to 2 years. This meal is excellent for both adult dogs and puppies because it contains a wealth of calcium and phosphorus that will help strengthen bones and tissue as they grow.
The limited ingredients include chicken thighs, long-grain white rice, apples, carrots, and spinach (no peas here!), all of which meet AAFCO standards. This recipe is also put together by the same team of experts mentioned above. Dogs seemed to love the taste, and at least one pet parent said it helped their pet's gastrointestinal issues. Honestly, the only complaint here was from a single person whose dog didn't like the food!
This food is pricier than most, though, so keep that in mind.
Pros
Lasts up to 2 years
Contains lots of calcium and phosphorous for strong bones and tissue
No peas
Cons
At least one dog didn't like the taste
Pricy
---
3. JustFoodForDogs Turkey & Whole Wheat Macaroni Recipe Fresh Frozen Dog Food
This fresh-frozen recipe is just as calorie-dense as the last, making it perfect for dogs who are underweight or just incredibly active. Made with human-grade whole ingredients such as ground turkey, whole wheat macaroni, zucchini, cranberries, broccoli, and carrots, it provides your pet with all the nutrients they need.
Pet parents raved that this food made their dogs' coats shinier, gave them more energy, and had fussy eaters loving it. One pet owner even mentioned their vet had done blood work on their dogs and was blown away by how much healthier they were after eating this!
A couple of people felt there wasn't enough food in each meal for their pets (though being calorie-dense, it should be fine). Also, keep in mind these don't last long, so you need to either freeze or feed them to your dog immediately.
Pros
Calorie dense
Pets and pet parents love it
Improved pets' health
Cons
A few felt there wasn't enough food in a meal
Not shelf-stable
---
3 Most Popular The Farmer's Dog Dog Food Recipes
Now that we've taken a look at a few Just Food For Dogs recipes, it's time to do the same for the The Farmer's Dog!
1. Turkey Recipe
The Farmer's Dog Turkey Recipe contains only a handful of whole ingredients, including turkey, carrots, chickpeas, parsnip, broccoli, and spinach. (Be wary of the chickpeas, as legumes other than peas have been associated with heart disease in dogs.) There's also added fish oil to give your pup a dose of healthy fatty acids that will improve the look and feel of their coats. There's a reasonable amount of protein here with 8% crude protein and plenty of minerals and vitamins to keep your dog active and healthy.
Pet parents raved about the food reducing inflammation in their dogs, as well as the tear staining that certain breeds get.
Pros
Limited ingredient
May reduce inflammation
Contains healthy fatty acids
Cons
Contains chickpeas
Requires a subscription
---
2. Beef Recipe
This recipe contains beef, lentils, sweet potatoes, beef liver, carrots, kale, and sunflower seeds for a great taste your dog will surely love. (Again, note the lentils, which are legumes.) There's also a dash of fish oil here to add healthy fatty acids for healthier skin and coat, along with plenty of B vitamins to keep your pet energetic, along with Vitamin E. This recipe also contains 3% more crude protein than the turkey recipe.
Even picky eaters loved this one, and several pet parents remarked that their dog seemed like a totally new one after a few weeks on The Farmer's Dog!
Pros
Picky eaters seemed to enjoy
Pet health seemed to improve after eating
Contains B vitamins for energy
Cons
Contains lentils
Requires a subscription
---
3. Chicken Recipe
The Farmer's Dog chicken recipe contains the most protein out of the recipes on our list (though it's only a half percent higher than the beef). And it doesn't include legumes—only chicken, chicken liver, Brussel sprouts, broccoli, and bok choy—which is definitely a plus! Besides having fish oil for a boost of healthy fatty acids, this recipe also contains vitamin D3, vitamin B12, and vitamin E, all necessary to keep your dog at its best.
Pet owners said dogs' stomach issues were improved with The Farmer's Dog and some pups lost unwanted pounds.
Pros
Has no legumes
Highest in protein
May help dogs lose weight
---
Recall History of Just Food For Dogs and The Farmer's Dog
Most companies will have had a recall or two in their history, so let's examine whether Just Food For Dogs or The Farmer's Dog has had any.
Just Food For Dogs had a single recall in 2018 due to potential Listeria contamination from green beans. There were no reports of dogs being sick; it was a purely voluntary recall for the sake of safety.
It looks like The Farmer's Dog hasn't had any recalls, though.
Brand Just Food For Dogs vs The Farmer's Dog Comparison
Now that you know more about these two dog food companies, it's time to see how they stack up against each other in a head-to-head comparison!
Taste
When it comes to taste, these two companies seem somewhat comparable as they both use whole, fresh ingredients. Pet parents raved over the fact that their dogs (even the picky ones) loved the taste of dog food from both Just Food For Dogs and The Farmer's Dog. We'd say it's a toss-up when it comes to taste.
Nutritional Value
The nutritional value of Just Food For Dogs and The Farmer's Dog is also about equal, though The Farmer's Dog seems to have a smidge less protein and fat than Just Food For Dogs (but more carbs). But it's a mere percentage or two on the protein and fat, so there isn't a massive difference between the brands. Both also use whole, fresh ingredients, and both occasionally use legumes in their recipes. Again, it's a toss-up.
Price
Price is a bit more challenging to determine a winner as The Farmer's Dog meals vary in price according to individual dogs. From people who have ordered from them, we've seen prices ranging from $4/day to $10/day. When it comes to Just Food For Dogs, prices can range from a pack of 7 fresh frozen meals at roughly $56 to a case of 12 fresh pantry meals for about $100.
Either way, both dog food brands are pricier than most.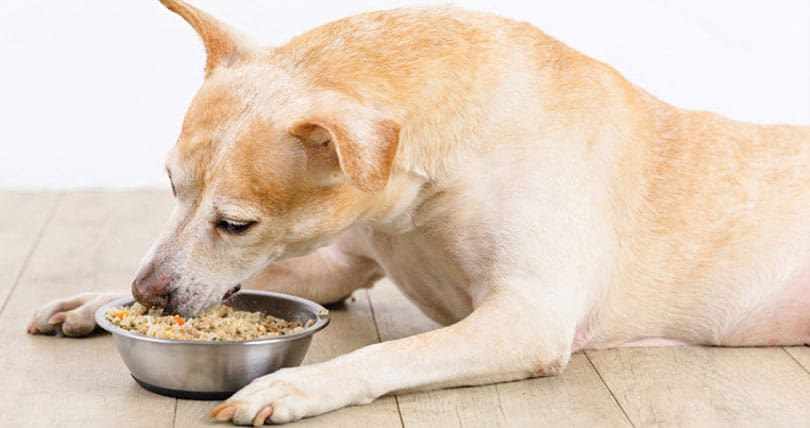 Selection
Just Food For Dogs wins out in the selection department as The Farmer's Dog only seems to have four recipes (the fourth being pork). Compared to their four, Just Food For Dogs has eight fresh-frozen meals (and a sampler pack), ten pantry fresh meals, and 12 vet diet meals. The brand will also create custom meals for your pet. So, Just Food For Dogs definitely has a wider selection of meals from which to choose.
Both companies also offer a handful of DIY recipes that you can make yourself, too.
Customer Service
When it comes to customer service, it seems like both companies could use some improvement. However, compared to the 16 Better Business Bureau complaints about The Farmer's Dog, Just Food For Dogs only had seven. It seems people had issues with both companies when it came to getting in touch with someone and returning items or getting refunds, though.
Overall
Overall, these foods are relatively equal in almost everything. We're rating Just Food For Dogs the winner, though, due to the fact that they have a wider range of meals to choose from, can customize meals made specifically for your pup, and have much more information on their website, giving a better appearance of transparency. That said, you probably won't go wrong with either of these dog food brands.
---
Conclusion
Between Just Food For Dogs and The Farmer's Dog, we find Just Food For Dogs to be slightly better due to its larger meal selection, opportunity to have specialized meals created for your dog, and a website with lots of info on how they operate.
Either of these brands would likely do well for those who want to feed their dogs a fresh food diet, though. They are pretty similar when it comes to the types of ingredients used, and both are a bit pricier than regular dog food brands. Both are quite healthy for your pet, as well. However, both dog food brands do use legumes in certain recipes, which has been linked to heart disease in dogs, so keep an eye out for that!
See Also: Farmer's Dog vs. Spot & Tango Comparison
---
Featured Image Credit: Shutterstock