The world of pet food is confusing and a bit mind-boggling. You can surely get lost in your quest to make the best decision for your pet. Both Pedigree and Purina are household names that have been around for a very long time and these top two dog food contenders have been battling it out for many years.
With dog owners becoming more knowledgeable about the health and nutritional needs of their beloved, four-legged friends, which brand truly stands out as the best choice?
We did the research and dove into both Purina and Pedigree and all the different product lines and recipe varieties they have to offer. We spent a lot of time examining the ingredients and looking into what the experts and other dog owners have to say. Read on to see what we found out and which we would choose for our dogs.
A Sneak Peek at the Winner: Purina
While both of these brands are extremely well-known and have been around for quite some time, Pedigree puts more of a focus on being affordable than offering up high-quality nutrition. Purina has found a way to incorporate both low-cost foods and great-quality nutrition into its brand, so Purina managed to come out on top thanks to its effort in nutrition and variety.
About Purina
Purina was founded in St. Louis, Missouri in 1894 and is a subsidiary of Nestle. It is undoubtedly one of the most popular pet food brands on the market alongside Pedigree. Purina features a wide range of foods and other products. They also offer a variety of protein sources and specialized diets and implement the use of quality ingredients in some of their higher-end product lines.
Purina has always been competitive in terms of price. But they have also shown a commitment to advancing with the trends and have put more focus on quality and nutrition as the world of pet care has woken up to the need for healthier, more natural diets for their pets. While their products are easy to find and most can be bought at the grocery store, more high-end products are found exclusively in pet stores, feed stores, and online.
While we are grateful that Purina has shifted its focus toward quality and nutrition, they still have some room for improvement. They do still feature very low-cost recipes with questionable ingredient lists and even some of their higher-priced, higher-quality foods could still be enhanced.
You can certainly get lost in the sea of available Purina dog food options. It can be overwhelming for owners that have so many choices at the tip of their fingers. However, having a selection is also a good thing because it gives you the ability to choose what works for your unique needs and we're thankful Purina offers that.
Pros
Wide variety of product lines and food options
Many specialty diets are available
Balances quality with affordability
Easy to find in stores or online
Cons
Offers some low-quality recipes
Occasional use of unnecessary fillers
About Pedigree
Pedigree is one of the most popular pet foods that has been around since 1957. It is a subsidiary of Mars, Incorporated, and is operated out of England. The brand sells more pet food than any other company in the world and they are associated with other popular pet food lines including Sheba, Eukanuba, Cesar, IAMS, and Nutro.
Pedigree is a very affordable brand that does meet the requirements for a complete and balanced diet that includes a blend of vitamins and minerals that dogs need. They offer a variety of dry foods, canned foods, and more. The issue with Pedigree is that its affordability is a result of low quality. The brand can't seem to find a balance between offering better quality foods at a reasonable price.
The low-quality ingredients in their foods affect the overall nutritional profile, especially in terms of protein and fat, which don't stand up well against their competitors like Purina.
Pedigree is popular, easy to find, extremely affordable, and remains a go-to for many dog owners. They have much room for improvement in their ingredients and overall quality. With more and more pet owners becoming knowledgeable about their dog's nutritional needs, it puts a spotlight on the brand.
Pros
Affordable
Easy to find in stores or online
Offers a variety of recipes and textures
Cons
Heavy with fillers and artificial food dyes
Reliant on by-product meals
Low-quality
More focused on affordability than nutrition
3 Most Popular Purina Dog Food Recipes
1. Purina ONE Natural True Instinct With Real Turkey & Venison
Main ingredients: Turkey, Chicken Meal, Soy Flour, Beef Fat Preserved With Mixed-tocopherols, Whole Grain Wheat
Protein content: 30% min
Fat content:17% min
Calories:4,040 kcal/kg, 365 kcal/cup
Purina One Natural True Instinct Real Turkey & Venison is a very popular recipe from Purina that comes at an affordable price and features real turkey as the first ingredient. This recipe is high in protein and features tender bites to make it more palatable.
The food has no poultry by-product meal or any artificial flavors or preservatives but it does have some inexpensive fillers within the list of ingredients. While venison is advertised along with turkey as the main ingredient, it is much farther down the list as the eleventh ingredient, compared to turkey which is first. It is the chicken meal that sits in the second spot.
It may not have the same superior quality as some other Purina foods but it's also better quality than others. A lot of owners turn to this food because their dogs love it, it's not outlandishly expensive, and it has decent nutritional quality overall.
Pros
Real turkey is the first ingredient
Affordable
High in protein
Cons
Does contain inexpensive fillers
Not as high quality as some other products in Purina's line
---
2. Purina Beneful Originals
Main ingredients: Beef, Whole Grain Corn, Barley, Rice, Whole Grain Wheat
Protein content: 23% min
Fat content:12% min
Calories:3,601 kcal/kg, 382 kcal/cup
Purina Beneful Originals is a go-to food for many, it is another cost-friendly food option that features real beef as the first ingredient and is made without artificial flavors or preservatives. It is lower in protein than some other recipes but is still a balanced blend of nutrients.
Considering the ingredient, this may not be the ideal food for allergy sufferers, as beef is a common protein allergen among dogs and the recipe also features corn, wheat, and soy, which are also potential allergens. So, it's best to check with your veterinarian if you have an allergy sufferer and are considering this food.
While Purina Beneful Originals is not top of the line in terms of quality and does include some inexpensive fillers toward the top of the ingredient list, it's not as low quality as some other food options that Purina offer, like Purina Dog Chow, for instance. According to many owners, even the pickiest of eaters love the taste of this food.
Pros
Affordable
Features real beef as the first ingredient
Dogs take well to the taste
Cons
Contains inexpensive fillers
Not ideal for allergy sufferers
Mediocre in quality
---
3. Purina Pro Plan Complete Essentials
Main ingredients: Chicken, Rice, Whole Grain Wheat, Poultry By-product Meal
Protein content: 26% min
Fat content:16% min
Calories:4,038 kcal/kg, 387 kcal/cup
Purina Pro Plan Complete Essentials is one of the more high-end foods that Purina has to offer. This dry kibble is combined with tender shredded bits to add texture and flavor that dogs love. This line has a wide variety of different protein options but this particular recipe features real chicken as the first ingredient. If chicken isn't suitable for your dog, you don't have to worry, just check out the other recipes.
This recipe features live probiotics to assist with healthy digestion and is rich in omega-6 fatty acids that are great for skin and coat health. It even contains chelated minerals for a well-rounded blend of nutrition. Many dog owners rave about how much their pups love the taste and mealtime isn't a struggle to get them to eat.
We certainly prefer to see species-specific by-product meals on the list and this one does not specify the source of the poultry by-products on the list. This is a higher-priced Purina dry food but it is a good quality food overall.
Pros
Real chicken is the first ingredient
Contains live probiotics for digestive health
Dry kibble features tender bites for better flavor and texture
Cons
Contains non-specified by-product meals
3 Most Popular Brand Pedigree Dog Food Recipes
1. Pedigree Adult Complete Nutrition
Main ingredients: Ground Whole Grain Corn, Meat And Bone Meal, Corn Gluten Meal, Animal Fat, Soybean Meal
Protein content: 21% min
Fat content:10% min
Calories:3348 kcal/kg, 309 kcal/cup
Pedigree Adult Complete Nutrition has been a popular dog food for decades. It is super affordable dog food, which has many headed to the aisles to grab it up. A low-cost food is convenient, especially for those that own multiple dogs or very large ones that eat a lot.
The reason that this food variety is so cheap is explained in the ingredients. You'll see that the first ingredient on the list is corn,  followed by unspecified meat and bone meal, then corn gluten meal, unspecified animal fat, and soybean meal.
None of these ingredients is something you'd search for when looking for quality. While corn itself has controversy, it's not considered a bad additive to dog food, but the main ingredient? No thank you. Another thing to bring up is the color of the food. While maybe it's visually appealing, our dogs aren't looking for that and those colors are derived from artificial dyes like Yellow 5, Yellow 6, Blue 2, and Red 40.
Pedigree might be very cost-friendly and work well for those on a strict budget but when it comes to overall nutrition, this food severely lacks in quality and is full of inexpensive fillers.
Cons
Corn is the first ingredient
Unspecified meat and bone meal is the primary protein source
Full of unnecessary fillers
Contains artificial dyes
---
2. Pedigree Chopped Ground Dinner
Main ingredients: Chicken, Sufficient Water For Processing, Meat By-Products, Animal Liver, Brewers Rice
Protein content: 8% min
Fat content:6% min
Calories:1119 kcal ME/kg, 420 kcal ME/can
Pedigree is also well known for its canned food options, which are also low cost in comparison to a lot of other brands. When we take a look at canned food, we have better things to say about it than the dry food varieties but there's certainly room for improvement.
Chicken is the first ingredient in the chopped ground dinner, which is great but the flavor is advertised as Filet Mignon and Beef and when you look down the ingredient list, you will notice artificial flavors have been added to the mix. While meat by-products and liver can be packed full of protein, we definitely prefer the company specified the animal it is derived from.
Overall, this food is highly palatable and will likely entice your dog to gobble it up. It is very affordable and can be used as a topper if not fed exclusively. It is certainly not top-notch in terms of quality and features some ingredients and cheap fillers we try to avoid.
Pros
Affordable
Palatable
Chicken is the first ingredient
Cons
Features unspecified meat by-products and liver
Contains artificial flavors
Contains cheap fillers
---
3. Pedigree High Protein
Main ingredients: Ground Whole Grain Corn, Meat and Bone Meal, Chicken by-Product Meal, Corn Gluten Meal, Animal Fat
Protein content: 27% min
Fat content:12% min
Calories:3,419 kcal/kg, 315 kcal/cup
The Pedigree High Protein dry dog food is a recipe crafted for dogs with higher protein needs, so it does feature more protein than the Pedigree Complete Nutrition line. We took a look at both the Chicken and Turkey Flavor recipe and the Beef and Lamb flavor recipe and it turns out that each recipe has the same first five ingredients, and they're nothing to brag about.
Corn is the first ingredient, followed by unspecific meat and bone meal. They do specify that the by-product meal is chicken derived, but it is then followed by corn gluten meal and unspecified animal fat. The natural flavors included on the list aren't all they are hyped up to be and while there is chicken in the ingredients, it's way down the list.
This food also features varying colors in the kibble, which are derived from artificial dyes, per the ingredient list. Overall, this food may be affordable and contain more protein than other recipes, but it is still packed full of cheap, lower-quality ingredients which is why the cost is so low.
Pros
Affordable
Higher in protein than other recipes
Cons
Contains artificial dyes
Full of inexpensive fillers
Corn is the first ingredient
Recall History of Purina and Pedigree
Purina and Pedigree both have a recall history, which is expected from two of the most widespread and popular dog food brands of all time. Below we'll break down the recalls that have occurred since 2010 for each company including all pet food-related recalls. It's important to note that the recall history does extend well into years before 2010 for both Purina and Pedigree.
Purina
July 2021- Purina recalled certain 3 oz. cans of Purina Pro Plan Complete Essentials Tuna Entrée in Sauce Wet Cat Food due to the risk of potentially containing pieces of plastic.
March 2016- Some Purina Pro Plan wet dog food sold in tubs was recalled because of inadequate levels of vitamins and minerals. This also included the Beneful line, which is also a product of Purina.
August 2013- Certain Purina One Beyond Our White Meat Chicken & Whole Barley Recipe Adult Dry Dog foods were recalled due to the risk of salmonella.
May 2012- Certain lots of Purina Veterinary Diets OM Overweight Management canned cat food were recalled for possibly containing low amounts of thiamine.
July 2011- Certain lots of Purina ONE Vibrant Maturity 7+ Dry cat food were recalled due to the risk of salmonella.
June 2011- Purina Cat Chow Naturals was recalled due to the risk of salmonella.
Pedigree
August 2014- Some Pedigree Complete Nutrition dry dog foods were recalled due to the possibility of small metal fragments being included in the food.
June 2012- Certain lots of Pedigree dog food were recalled as a potential choking hazard.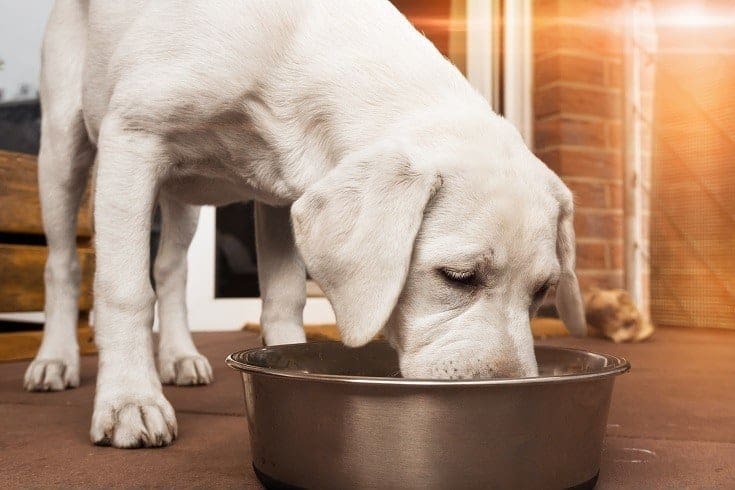 Purina VS Pedigree Comparison
In this section, we are going to break down which company comes ahead of the others in a few important areas that dog owners are most concerned about.
Taste
In terms of taste, Purina is our clear winner. Not only do they offer a wider variety of products overall, but they also offer many more main protein sources than Pedigree foods and the taste comes from more natural meat sources in a lot of recipes. Purina also incorporates tender shredded bits into some of their dry kibbles to make them more palatable and enjoyable for dogs.
While Pedigree has had a reputation for offering canned food varieties, Purina has them beat on the canned food front as well with many options that are similar to their dry kibble recipes that can either be fed exclusively or as a tasty topper.
Nutritional Value
Purina is also the clear winner in terms of nutritional value. When you break down the recipes Purina has a wider variety of food options that include some with better quality ingredients than what Pedigree offers.
We don't like that most of the Pedigrees recipes feature corn as the first ingredient but Purina also has low-cost recipes that do the same. Overall though most of Purina's most sought-after recipes either offer real meat or a specified meat meal as the first ingredient.
Both brands make food options that include dyes like Yellow 5, Yellow 6,  Red 40, and Blue 2 into their ingredient list along with other unnecessary, inexpensive fillers. So, while we can't say Purina is against low-quality foods, they at least offer high-quality food options which is what we are looking for but there is certainly plenty of room for improvement within both brands.
Price
Pedigree comes in the lead in terms of price because their food options are lower cost, overall. That being said, cheaper doesn't always just apply to the cost of the food, but it can also apply to the quality of the food. In this case, you would trade quality for a lower price, which isn't a good idea for your dog's overall health and nutrition. We will add though, that Purina does offer low-cost options such as Purina Dog Chow and Alpo that are comparable to Pedigree's pricing and quality.
Selection
Purina takes the cake for selection thanks to its numerous product lines that include dry kibble, canned wet food, treats, supplements, and more. They also feature many more specialty diet options including high-performance, grain-free, sensitive skin and stomach, veterinary diets, and much more. You also have to consider that Purina offers up many different natural protein sources, where Pedigree lacks significantly in comparison.
Overall
When you break it down, Purina gets our pick for winner overall. As mentioned, both companies could use some improvement in certain areas but when it comes down to brass tacks, Purina is the very clear winner in terms of taste, nutritional quality, and selection.
---
Conclusion
Pedigree may be much more affordable overall, but that's due to the use of low-quality ingredients dominating their products and while it's nice for those looking for low-cost options, there are plenty of concerns in terms of nutritional quality.
Purina is our top pick for being able to find a balance between affordability and offering up better quality. They also offer a much larger selection of food options, protein sources, and specialized diets. While there are areas that Purina can certainly improve in, they are the clear winner in this competition.
---
Featured Image Credit: Shutterstock