Pet parents have only the best intentions when they make food for their dogs and cats, but without the guidance of a veterinary nutritionist, the chance that the result will be nutritionally complete and balanced is slim. Of course, there are some undeniable benefits associated with feeding pets a diet made from fresh, whole foods, but if pets suffer from nutritional deficiencies or excesses as a result, the benefits do not outweigh the risks.
But what if you could feed your pet a diet that has all the advantages of a homemade dog food with the assurance that they will get everything they need to thrive? I recently had the opportunity to take a look at the dog and cat foods made by NomNom, a company that prepares fresh, made-to-order diets for pets under the guidance of veterinary nutritionist Dr. Justin Shmalberg.
Our Score for Nom Nom
What We Like
Delivered straight to your door
Temperature-controlled shipping to maintain quality
Thorough directions for transitioning your pets to a new diet
High-quality, nutritious ingredients
What We Don't Like
No vegetarian options for dogs
Only two recipes for cats
Important Features
Fresh, individually portioned (to your pet's calorie needs) meals delivered to your door.
Individual meals measured and individually sealed in their own bags.
Formulated by a leader in veterinary nutrition.
Personalized meals based on your pet's weight, age, activity level, and health issues.
Free pet nutrition consultations.
Meals prepared fresh-to-order each week in NomNomNow's facilities.
Care-grade guarantee: If you don't see a difference in your pet after 30 days of fresh meals, NomNomNow will buy your pet's next diet, up to $40 with proof of receipt.
How Much Does It Cost?
NomNomNow's pricing is as individualized as the fresh-made meals you get for your pets, based on your pet's age, weight, and, if you're aiming to have your pet lose or gain some weight, your pet's target weight.
As an example, the following pricing is based on a mixed-breed dog, age 6, currently weighing 25 pounds with a target weight of 20 pounds for the Tasty Turkey Fare recipe:
Weekly Delivery Frequency (14 meals per delivery, 4 lbs of food): $36.18/week
2-Week Delivery Frequency (28 meals per delivery, 9 lbs of food): $28.30/week
4-Week Delivery Frequency (56 meals per delivery, 17 lbs of food): $24.36/week
Shipping is FREE, and you can get 50% OFF YOUR FIRST ORDER. Click HERE to get started.
NomNomNow for Cats
The foods (and treats) were delivered to my house in a well-lined box kept cold by two large ice packs. The food was thoroughly chilled upon its arrival and I had no concerns that it might have spoiled while it was in transit.
Here is a picture of the first recipe I offered my cat, Minerva.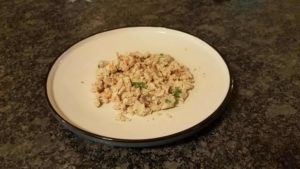 It is called "Chicken Chow-Meow" and contains chicken thigh, chicken breast, chicken liver, carrots, asparagus, spinach, cantaloupe, and a nutritional supplement containing all the additional vitamins and minerals that pets require. Many of those ingredients are readily identifiable by simply looking at the food.
As part of my shipment, I also received directions on how to transition Minerva to such a novel diet (cat's don't like change after all!) as well as a bottle of beef broth and some Bonito (tuna) flakes to help. After I mixed a small amount of the broth and flakes into the Chicken Chow-Meow and heated everything to room temperature in the microwave, Minerva dug right in. Here she is enjoying her first meal.
A few days later I offered Minerva the Flavor Fish Feast recipe made from tilapia, salmon, beef fat, cassava root, carrot, and the NomNomNow vitamin and mineral mix. This time no broth or Bonito flakes were needed. She dug right in.
NomNomNow for Dogs
Unfortunately, my dog Apollo has to eat a veterinary prescription diet to manage his severe inflammatory bowel disease. I couldn't use him as my test subject for the NomNomNow dog foods, but I did open up a pouch of their "Heartland Beef Mash" made from ground beef, potatoes, carrots, peas, eggs, fish oil, and vitamins and minerals.
It almost looks like something you'd make for yourself, doesn't it?
I gave the rest of the dog food to a friend who recently adopted Cali, a sweet goofball who had been abandoned, rescued from a kill shelter, transported between states, given birth to a litter, spayed, and gone through several foster homes. If anyone was due for a treat it's Cali! She was not eating well when she first arrived at my friend's home, but when they started mixing the NomNomNow dog food into her kibble she began to eat with gusto.
How It Works
If you feed or have considered feeding a homemade diet to your pets, take a look at NomNomNow. All you have to do is give the company your pet's weight, age, activity level, and any health issues that they might have and then pick a recipe (pork, chicken, turkey, or beef for dogs and chicken or fish for cats).
If you have any questions, you can request a free nutrition consult. You will then receive individually portioned meals for your pets along with instructions on how to start feeding your dog or cat their new food, how to store it, and how to recycle all of the packaging it comes in (yay!).
The Final Verdict
Overall, I'd give NomNomNow a 4.8 out of 5. My only complaints are that there are just two recipes to pick from for cats and no vegetarian option for dogs. I strongly recommend these healthy, nutritionally complete and balanced diets to pet parents who want to replace or supplement their pet's current diet with food that's at least as good if not better than what you can make at home.
Ready to give your pet the benefits of homemade meals without the hassle? Get started with NomNomNow.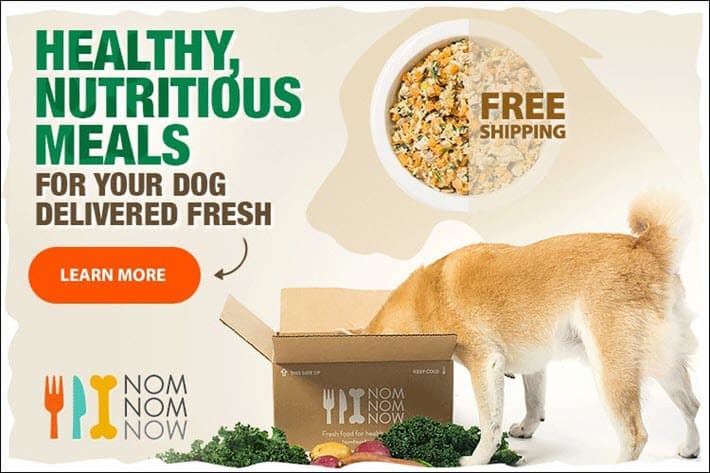 See more reviews on our Best Dog Food Delivery Services
Looking for some different food and treat options? Make sure to check out our pet food and treats articles.