Are you looking to try feeding your dog a natural food but are leery of making an expensive commitment? Spot & Tango has your back! It's formulated by veterinary nutritionists and relies only on whole ingredients that you might find at your own dinner table. It's delivered to your door, too, making it a super convenient option for people who are concerned about their dogs' health and also not able to devote hours each week to prepping and cooking fresh foods.
Our Score for Spot & Tango
What We Like
Three flavors available: turkey, beef, and lamb
Customized to your dog's individual needs
Made with real ingredients and human-grade food
Fresh, locally sourced foods
Formulated by veterinarians
100% guarantee
Eco-friendly packaging
What We Don't Like
Can be pricier than some similar options
Meals arrive frozen so they must be thawed
Not available in all zip codes
Important Features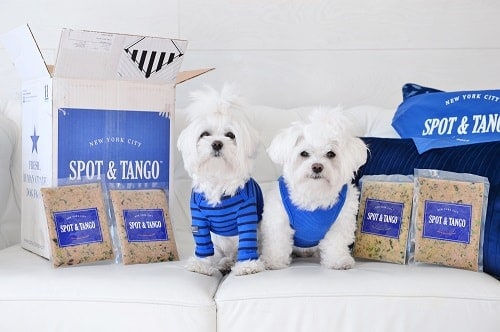 Discount for first two weeks. When you change your dog over to a new food, you want to be sure that they're going to like it. The first two weeks of Spot & Tango come at a discounted price so you can try it out and see if it's right for your furry friend.
Guaranteed satisfaction. If Fido turns up his nose at the food, you aren't risking anything, because your order is 100 percent guaranteed.
Two options available for quantity. You can choose to feed your dog only Spot & Tango or you can choose to add Spot & Tango food to his current diet. The second option is called the Topper Plan.
Environmentally friendly packaging. The packaging is recyclable and biodegradable, so you won't be adding to the landfill.
Made in small batches. Your dog's food won't be sitting around in a warehouse somewhere for weeks before being delivered. It is prepared shortly before shipping and will arrive to you ready to be stored in the freezer or thawed for consumption.
How Much Does It Cost?
The cost of Spot & Tango depends on how much your dog eats. The company has a way to determine how many calories your dog should be getting based on his or her sex, activity level, reproductive status, current weight, and more. The price for your dog will probably be different from the price for my dog, but here's what I paid, to give you an idea.
My dog is a 60-lb spayed female who is a healthy weight and is somewhat active. For the turkey recipe, the cost per meal would be $4.05; for the beef recipe, it would be $4.36; and for lamb, $6.19. I chose beef (you can choose one, two, or all three flavors), and the non-discounted cost for the week came out to $89.65 for the full plan and $33.04 for the topper plan.
They're offering 20% off a two-week trial on both their full meal and topper plans, so the totals came out to $71.72 for the full plan and $26.43 for the topper plan. The relatively inexpensive topper plan is a great option because toppers are designed to be used as treats or mixed with your dog's current food, and new foods should always be introduced gradually. If you like the results of your topper trial, you can always move to the full meal plan for your next order.
Get 20% off a two-week trial of Spot & Tango. Click HERE to get started.
What's In the Food?
The ingredients used by Spot and Tango are the same types of foods you might serve yourself. Here's what you can find in each of the recipes:
Turkey & Red Quinoa
Ingredients: Turkey, Red Quinoa, Apple, Spinach, Carrots, Peas, Eggs, Parsley, Apple Cider Vinegar, Safflower Oil, Vegetable Stock, Spot & Tango's natural blend of vitamins & minerals
Nutritional Breakdown: 43.5% protein and 18.6% fat on a dry matter basis
326 Kcal per 8oz pack
Beef & Millet
Ingredients: Beef, Millet, Cranberries, Spinach, Carrots, Peas, Egg, Parsley, Apple Cider Vinegar, Safflower Oil, Vegetable Stock, Spot & Tango's natural blend of vitamins & minerals
Nutritional Breakdown: 39.3% protein and 19.4% fat on a dry matter basis
322 Kcal per 8oz pack
Lamb & Brown Rice
Ingredients: Lamb, Brown Rice, Blueberries, Spinach, Carrots, Peas, Egg, Parsley, Apple Cider Vinegar, Safflower Oil, Vegetable Stock, Spot & Tango's natural blend of vitamins & minerals
Nutritional Breakdown: 39.5% protein and 22.2% fat on a dry matter basis
305 Kcal per 8oz pack
All of the Spot & Tango recipes:
Are made from human grade, locally-sourced ingredients including USDA certified meats
Do not contain preservatives, growth hormones, or artificial additives
Are gluten, grain, wheat, soy, and corn free
Are formulated by veterinarian nutritionists to meet the nutritional levels established by the AAFCO Dog Food Nutrient Profiles for All Life Stages
Are cooked at low temperatures in small batches in a USDA/FDA inspected kitchen
Are immediately vacuum sealed in pre-portioned, certified BPA-free, food-safe pouches, and flash frozen to preserve nutritional integrity
Are delivered within days of being prepared
How It Works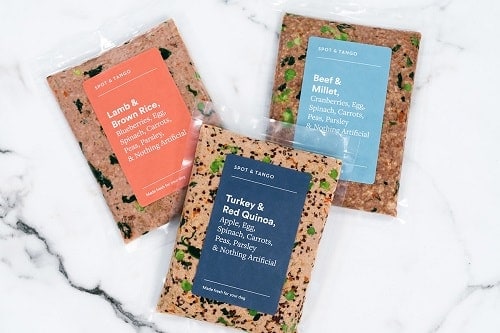 The sign up process is easy. You simply make your way through Spot & Tango's proprietary questionnaire that collects information about your dog's age, weight, body type, activity level, breed, and reproductive and health status. The company doesn't offer any prescription-type foods, so talk to your veterinarian before ordering if your dog is on a therapeutic diet.
When you get to the end of the questionnaire you get to pick from one or more of Spot & Tango's three recipes, each with the price per meal clearly noted. I appreciate the transparency! Then your order is delivered on a recurring basis that is customized for your dog. You have the option of pausing or skipping a delivery; you have to send in the request before 5:00 pm EST on the day before your next order is processed.
When my two week supply arrived, I was pleasantly surprised to find that all of the packaging was 100% recyclable. The insulating foam layer is made from cornstarch and can be dissolved in your sink! The food arrived on my doorstep still frozen solid thanks to the dry ice included in the shipment.
If you or your dog isn't satisfied with your two week trial you'll get your money back. A risk-free chance to sample freshly prepared dog food—what's not to like about that?
The Final Verdict
All in all, I liked Spot & Tango, and so did my dog. I like knowing what ingredients are going into her food, I feel good about using a service that veterinary nutritionists have designed the recipes for, and I really like that all of the packaging is recyclable. The no-risk two-week trial is a great deal, as is the 20% off of the first order. As long as the service is available in your area (that's the first question the website asks, so go check it out), I recommend trying it to see how you and your dog like it!
See more reviews on our Best Dog Food Delivery Services