Pet ownership offers a multitude of benefits for physical and emotional health. After a long and difficult day, nothing can compare to the unconditional love you receive from a sweet pet.
In fact, research has shown that pets can decrease both blood pressure and anxiety, and perhaps even boost immunity. Plus, they can help you find dates with a fellow pet lover. While you may feel like just another number in the big, wide world, to your pet – you ARE their world.
Having a pet is tons of fun, but it's also a lot of work. From regular exercise to a healthy diet, regular vet visits, training, and more, there are a lot of things to consider – and always something new to learn throughout your journey as a pet parent. Pet lovers turn to blogs for advice on health concerns, entertainment (adorable cat GIFs, anyone?), ideas for fun activities to enjoy with your pet, tips on traveling with pets, and just about any concern you might have as a pet parent.
We've compiled a list of 47 of the best pet blogs, from blogs with adorable images of furry friends to blogs offering educational information on training, pet health, and other topics.
Categories:
Individual Pet Blogs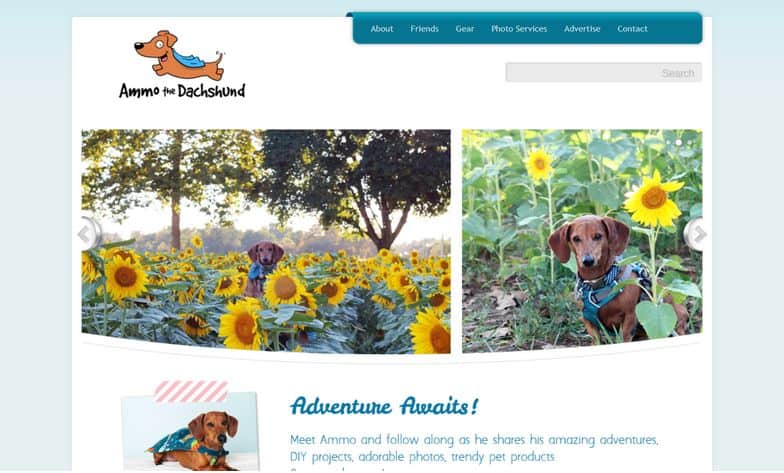 Ammo the Dachshund is a mix of pictures and stories about a dog named Ammo. The posts share Ammo's "amazing adventures, DIY projects, adorable photos, trendy pet products & so much more!" The blog is humorously written from the perspective of the dog and includes many photo shoots with Baby P, whom Ammo refers to as his little sister. The quality of the photos are especially impressive.
Three posts we like from Ammo the Dachshund:
Bodie on the Road focuses on the travels of Bodie, a dog who has visited over 30 states in the US. The blog is connected to the bestselling book Bodie on the Road: The Dogged Pursuit of Happiness, and offers practical canine travel tips and information about dog-friendly destinations. It also periodically reviews dog products.
Three posts we like from Bodie on the Road:
Champion of My Heart, an award-winning dog blog by Roxanne Hawn, describes itself as "a real-time canine memoir." The posts detail the relationship between Hawn and her two dogs, Clover and Tori. Frequently updated, with over 300 pages of posts–the blog, which has been in existence for over a decade, focuses on the activities and health of Hawn's two dogs.
Three posts we like from Champion Of My Heart:
Crusoe The Celebrity Dachshund follows the life of Crusoe, "wiener dog extraordinaire," as he travels, poses, and, of course, blogs throughout the world. Told from the dog's POV, the posts mix short, well-written paragraphs with tons of pictures of Crusoe. The blog is tied to a New York Times bestselling book about Crusoe, and the posts encourage comments and interactions from virtual fans.
Three posts we like from Crusoe the  Celebrity Dachshund:
This website focuses on Manny the Frenchie, the self-proclaimed "world's most followed French Bulldog." The website has a diverse selection of Manny-related offerings, including a Manny-approved Spotify playlist, an online shop with Manny mugs and phone cases, and a press section that links to clips of Manny from Buzzfeed, the Huffington Post, Chicago Magazine, and more.
On My GBGV life, you get to follow Emma. GBGV is an acronym for Grand Basset Griffon Vendeén–try saying that quickly five times. Emma lives quite the life and is very well-traveled throughout the U.S. and some of Europe. The travel images are stunning. Plus, you'll get great advice on how to travel with your pet.
Three posts we like from My GBGV Life:
Rascal and Rocco will keep you amused for hours. The blog is written by L.E. Mastilock, who is a homeschooling mom, writer and artist. It centers on her two adopted cats. You can even request a custom portrait of your pets.
Two French Bulldogs is a quirky, fun and innovative blog you can't help but love. It is up-to-date with regular posts from two French Bulldogs, Edward and Lily. They've got pictures and plenty to say about holidays and anything else touched by their paws and thoughts.
Three posts we like from Two French Bulldogs:
Maggie is an eight-year-old Beagle who will take you–virtually–on her many travels. She has gone by plane, train, automobile and boat. She loves to share her experiences across the U.S., Asia and Europe. You can certainly live vicariously through Maggie.
Three posts we like from Wag the Dog:
Cat-Focused Blogs
15 and Meowing writes about all things feline. The blog features weekly posts, such as Wordless Wednesdays, Thankful Thursdays, and Selfie Sundays, while also including festive posts around the holidays. The writer periodically reviews toys and other cat-related items. Pictures of the writer's cats abound on the page, often accompanied by comedic captions. Links to other pet blogs are peppered throughout 15 and Meowing, too.
Three posts we like from 15 And Meowing:
With over 100 pages of posts, the blog Cat Wisdom 101 is a virtual world for feline lovers, featuring discounts on cat-related items, stories about cats, funny memes, and, of course, adorable pictures of cats. The writer, Layla Morgan Wilde, describes herself as "the only holistic cat behaviorist who conducts cat product reviews and giveaways" and lists enhancing the cat-human bond as one of her goals.
Three posts we like from Cat Wisdom 101:
Specializing in "award-winning, silly, mostly ridiculous cat humor", the blog Catladyland takes a light, humorous approach to the feline world. The posts on the blog highlight the best cat products around and announce cat-related holidays, like National Cat Lady Day, which falls on April 19th. The author also snaps pictures of her own cat, Phoebe, which adds a personal touch to the blog.
Three posts we like from Catladyland:
The blog Covered in Cat Hair tells the story of a Robin Olsen, proud owner of eight cats and a non-profit cat rescue. Robin aims to find "a home for every cat and to stop the insanity of euthanizing adoptable animals as a way of population control." In her addition, her posts detail her journey on this mission while also introducing the reader to pictures of her own cats.
Three posts we like from Covered In Cat Hair:
Service Cats U.S. is run by cat lovers and designed for cat lovers. It tells a story of two pretty cats "Zebby" and " Raena" from both humans and cats' perspectives. On the site, you'll see many of their loving images. If you're a cat lover, this is an interesting blog.
Three posts we like from Service Cats U.S.:
Specializing in cats and cat stuff, the owner of blog "Hauspanther" emphasizes how design can improve our adventurous lives with cats. It aims to encourage people to pay great attention towards designing environments and objects to ensure cats can enjoy their stay at home. Here, you'll find innovative home designs built to keep cats interested and motivated. This is the site for design-conscious cat people.
Three posts we like from Hauspanther:
The blog "I Have Cat" attempts to shatter the "cat lady" stereotype by documenting the life of Tamar, a single woman in New York, as she navigates the world of dating "despite the complication of owning cats."  According to Tamar, the blog reads like "Sex and the Kitty." While it focuses on dating with cats, it also makes time for product reviews and other cat-loving bloggers.
Three posts we like from I Have Cat:
Katzenworld, which describes itself as the world of cats, is a blog related to all things feline that was started and is run by a group of cat-obsessed friends. The blog mixes cute pictures of the owners' cats and amusing anecdotes with more practical advice about having cats as pets, such as how to protect them from consuming toxins and how to ensure they receive the best medical care.
Three posts we like from Katzenworld:
Living with Loulou is a blog that adopts the perspective of the eponymous cat to make sassy, humorous posts about her life. With a tagline of "a French kitty comments on just about everything," the frequently-updated blog has posts on a wide range of subjects–from festive holidays to Loulou's relationships with humans and other animals.
Three posts we like from Living with Loulou:
For "everyone who enjoys the cozy moments in life," Melissa's Mochas, Mysteries and Meows fuses the world of books and the world of cats together to form a literary pet blog, or an animal-inspired book blog, depending on your perspective. The posts center on the author's relationship with her own cat while also highlighting the roles that pets play in various books.
Three posts we like from Mochas Mysteries & Meows:
Paws and Effect is a blog that is written by cats and their people. Okay, perhaps it isn't exactly written by cats, but let's pretend it is. Here, you'll get to read posts from a cat's perspective–and, that's really all that matters anyway. Plus, you'll find many informative and health-related articles to help your cat live its best life.
Three posts we like from Paws and Effect:
If you need a one-stop portal for all things cats, this is it. The Catnip Times offers a massive collection of blog posts to answer any feline-related question you may have. In addition, you'll find guides for current and potential cat owners. Furthermore, you can find your local cat shelter and information on medical care.
If you love cats but struggle to understand them, then this is the blog for you. Here, you'll find useful information such as the problem with over-vaccinating your cat. The author is Ingrid King, who was inspired by her cat Buckley. She also shares her grief when she lost Buckley to heart disease at the age of two.
Three posts we like from The Conscious Cat:
The Creative Cat offers everything from stunning cat photos to information on cats available to adopt. You'll also find some really innovative cat products that you can purchase. Plus, there are many heartwarming stories of successful adoptions. This is an educational and fun place for cat lovers to congregate.
Three posts we like from The Creative Cat:
All kitties are part of a committee, didn't you know? This blog focuses on resident cats and foster kittens. You'll see pictures of kittens with antiques. The blog also helps with fundraising efforts to help find homes for stray cats and kittens.
Three posts we like from The Itty Bitty Kitty Committee:
We're All About Cats is exactly as the name implies. Cats are now the most popular pet in America. Just look at the cat images permeating everything from social media to commercials for every line of product. They're just adorable. Yet, many cat owners still need to learn how to handle the somewhat moody nature of cats. One minute they are cuddly love bugs, and the next minute, they're slapping you away. This blog provides tips and community information to enjoy a wonderful and loving life with your feline babies.
Three posts we like from We're All About Cats:
Dog-Focused Blogs
DJANGO's modern dog blog has useful and informative articles on travel, adventure, dog health, and high-quality product finds. The blog's editor is Steph and the site is named after her long-haired dachshund Django. The adorable pup is a social media star, so now and then you'll find blog posts about growing your pet's Instagram account. The blog is part of the site's dog gear company, they offer travel and outdoor gear for dogs.
Three posts we like from DJANGO Dog Blog:
Illumiseen.com is both a pet blog and shop; they mainly focus on dogs and horses. Their blog contains useful and informative topics on pet health, lifestyle, grooming, wellness, and so much more. It also has a shop that features innovative and high-quality LED products for dogs and horses. On top of that, it has a VIP club where members can enjoy exclusive perks and offers.
Three posts we like from Illumiseen:
The Aurora Pets blog has three sections: raw feeding guides, style and trends, and out and about. The raw feeding guides section has informative articles on recipes and what type of food to feed your dog. The style and trends section has a collection of interviews with popular dog brands so that you can learn more about different dog products for your pup! Lastly, there's the out and about section of the blog, which highlights great places for dog walks and excursions, each post includes a video of the trip. This blog is part of the site's luxury apparel and accessories shop for dogs. They offer designer dog products to help keep your dog looking stylish.
Three posts we like from the Aurora Pets Blog:
Dog Tipper is a blog for dog lovers. It has a store that sells dog products and advises on traveling with dogs. The blog encourages participation through a community forum where readers share ideas. It is a promotional blog for the online store PawZaar.com suitable for dog lovers who are out shopping for their pet dogs. The owners are renowned authors of over two dozens travel and pet books.
Three posts we like from DogTipper.com's Celebrity Canines:
The blog Fidose of Reality is all about dog health, lifestyle, and wellness for dogs, especially Cocker Spaniels. In addition, it keeps readers updated on canine news and contests. It also acts as a promotional website featuring a wide range of dog products to keep your dog in good condition. They also have cute dog-branded clothing specifically designed for canine lovers.
Three posts we like from Fidose of Reality:
With tons of adorable pictures, Golden Woofs focuses distinctly on the beautiful Golden Retriever. The owner was inspired to establish the blog by her dog, Sugar, who died in 2014. It features articles and information on dog health, travel, dog products as well as dog-branded human items. The owner also reviews products such as dog-friendly cars, movies and books within the dog-loving niche.
Three posts we like from Golden Woofs: Sugar the Golden Retriever:
This blog focuses on the joyful stories of two good-natured dogs, "Sampson" and "Delilah." The narrative offers a light and humorous tone from a personal perspective. There are also many candid and cute pictures that go along with the posts.
Three posts we like from Heart Like a Dog:
This blog aims at helping people to better understand their dogs. It features dog food reviews, brand prices and comparisons. In addition, you'll find many articles about well-being and dog health. The site is easy to navigate with many cuddly photos.
Three posts we like from HerePup!:
For those who want "to live life to the fullest with your furry companion by your side", the blog Dog or Nothing brings reviews and giveaways of pet items while also providing tips to help owners make the world more dog-friendly. Kelsie McKenzie, the writer, owns two large dogs but strives to make her posts accessible to owners of dogs of all sizes.
Three posts we like from It's Dog or Nothing:
MyDogLikes is a blog run by two self-professed dog lovers who aim both to improve the lives of their own dogs and share the lessons they've learned and the experiences they've had with a community of dog lovers. The blog offers reviews of products, dog-friendly travel guides, and tips for proper dog care, as well as adorable pictures of Harley and Charlie–the dogs owned by the two writers.
Three posts we like from My Dog Likes:
This is a blog dedicated to fluffy dogs. The writer, Serena Faber Nelson is also a television producer and fluffy dog owner. The layout is pretty and easy to navigate. You'll see many beautiful things and adorably fluffy dogs.
Three posts we like from Pretty Fluffy:
If you want your dog to live in luxury, then you have to read PupStyle. This is like a celebrity-news site for dogs. It was founded by Dara Foster and features dog fashion, luxuries and celebri-dog nows. This is meant for dogs who know they're royalty.
Three posts we like from PupStyle:
Rubicon Days was created to help you deal with any challenge your dog throws your way. You can learn about reward-based training, street dogs and even animal welfare. Plus, you'll get several healthy treat recipes you can make at home.
Three posts we like from Rubicon Days:
Tenacious Little Terrier will grab your heart strings and never give it back. You'll find loads of topics and advice pieces about how to have fun with your dog, pet-friendly beach locations and more. Plus, you get to join Mr. N on all of his adventures.
Three posts we like from Tenacious Little Terrier:
This is a site for terrier lovers and dogs in general. It also mixes in some information on politics and the environment. You'll learn of animal news throughout the world, including information on various causes to help animals enjoy safe and healthy lives. This site even posts investigative and watchdog stories on animals all over the globe.
Three posts we like from Terriermans Daily Dose:
General Pet Blogs
As a child, Richard suffered from asthma, and found that "standard" fluffy house pets aggravated his condition. Instead, he took up keeping exotic pets like snakes, lizards and – closest to his heart – tarantulas. Richard has now been keeping exotics for over 20 years, and has published over 200 care guides on his blog. If you're looking to get started in the world of less common pets then this is a great place to start your journey.
Three posts we like from Carma Poodale:
A light-hearted blog for animal lovers, Carma Poodale discusses pets, wildlife and animal products. Describing itself as "a multi-species family continuing a poodle's passion to educate and entertain readers," the blog often posts from the perspective of the animals themselves, which include a dog and a rabbit. The rabbit, Speedy, features prominently on the blog and describes himself as one who loves "getting into scrapes and having fun."
Three posts we like from Carma Poodale:
The website I Can Has Cheezburger centers on the humorous subject of animal pictures, memes, and listicles. The site contains profiles on famous animals–that is, animals who have gained attention and a substantial following on social media, while also posting screenshots of animal-related tweets. It targets people who enjoy pictures of adorable animals coupled with hilarious, gut-busting captions.
Three posts we like from I Can Has Cheezburger?:
Irresistible Pets is a lifestyle blog that details the life of Aimee and her dog, Chuy Chihuahua. The blog includes "DIY tutorials, recipes, inspiring stories, [and] fun adventures with Chuy," while also offering information and links about how to make pet blogging a career, particularly through the organization BlogPaws. Irresistible Pets also contains posts about pet-friendly travel, for those who don't want to leave their furry friends at home.
Three posts we like from Irresistible Pets:
Petopia is all about pets, and they have a huge blog collection. You can find any pet-related topic here. And, there is a lot of interesting information such as a post on the American Museum of the House Cat. You'll have plenty of articles to keep you informed and entertained.
Three posts we like from Petopia:
Pet Health and Wellness Blogs
PetBucket's blog is packed full of useful tips, advice and ideas on how to keep your pet as healthy and happy as possible.
The blog contains advice on feline and canine health – from tick and flea control, joint health, and guides on treating heartworm and hot spots – to nutritional advice, and funny lifestyle posts to make you smile.
They also provide informative product reviews on pet medication, such a tick and flea treatment and pet vitamins and supplements.
Three posts we like from PetBucket:
Keep the Tail Wagging is a blog that specializes in providing information about a "raw food diet" for dogs. The writer focuses on the health benefits that her dogs have experienced as a result of switching their diets from processed, commercial foods to raw feeding. The blog also discusses the "pushy, judgmental, and angry" aspects of the raw food community and attempts to counter that stereotype through her writing.
Three posts we like from Keep The Tail Wagging:
There is nothing like spending time with our four-legged friends. And, who knew all of the adventures you could take? Sure, it's fun to read about celebrities and cooking–but, that just isn't always enough. Thankfully, we have the pet blogs above to give us a little help and advice, and of course, super cute pet photos. We will also continue to add to our growing list of top pet blogs. Don't see your favorite pet blog above? Email [email protected] and we'll add it to the list.
Top Pet Product Reviews: