Fresh dog foods are having a moment. People increasingly recognize the value of minimally processed foods in their own diets and are looking for ways to extend those benefits to their canine family members. However, a lack of time and a very legitimate fear of "getting something wrong" has held many people back. Pet Plate does a great job of solving both of those problems!
According to their website, Pet Plate foods are kettle-cooked in a human-grade kitchen using USDA meat, fruits, and vegetables along with a proprietary blend of vitamins and minerals. Each batch is tested for safety. Pet Plate dog foods contain no rendered meats or byproducts and no corn, gluten, or artificial preservatives, colors, and flavors.
Our Score for Pet Plate
What We Like
Formulated by a veterinary nutritionist
Flexible delivery options
Four flavors
Recognizable, fresh food
Pre-portioned containers
What We Don't Like
Important Features
Prepared in USDA kitchens. Pet Plate uses human-grade food and it is prepared in human-grade kitchens.
Personalized for your dog. You'll fill out a questionnaire about your dog's age, weight, activity level, and more. This all goes into a formula that will determine the right number of calories and nutrients for your dog.
Resealable containers. Leftovers stay fresh in the fridge for a week after they're defrosted (but should be discarded after sitting at room temperature for two hours).
Delivered to your door. Once you are set up for deliveries, they'll keep coming on an ongoing basis. If you need to skip a shipment or make changes, you can do that on the website.
Full meal or topper plans. You can choose to feed your dog exclusively Pet Plate food or you can use it as a topper for the food that you are currently feeding your pooch.
How Much Does It Cost?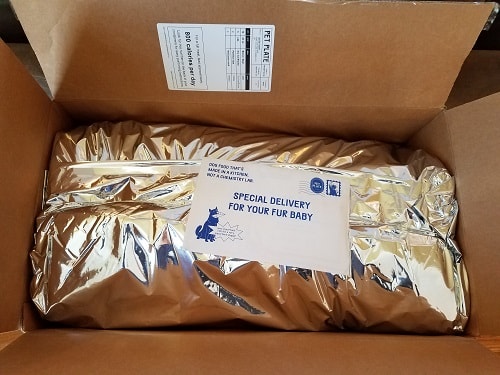 The cost of Pet Plate will depend on how much your dog eats. The amount that your dog eats will depend on how large she is, whether she's active or inactive, and whether she's already at her ideal weight or needs to gain or lose a few pounds. I used Amber, my own dog, who is a 60-lb female.
I chose the beef flavor. The first shipment comes with 25 percent off, so the full meal plan is $7.39 per day, or $103.42 for two weeks. The regular price after that would be $137.90 every two weeks. The topper plan came out to $65.14 with the discount ($86.85 regularly) for a three-week supply. Keep in mind that the topper plan is in addition to the food you normally feed your dog.
More About Pet Plate Dog Food
I have to admit that I tend to be skeptical when I look at new dog food companies. Are they just out to make money on the latest trend, or are they willing to make the necessary investments to do right by dogs? Pet Plate quickly put my mind at ease.
All of their foods are formulated by a veterinary nutritionist — Dr. Renee Streeter, DVM, DACVN. I appreciate that the person behind the recipes used by Pet Plate is identified so clearly. Pet Plate dog foods are also formulated to meet the nutritional levels established by AAFCO Dog Food Nutrient Profiles for all life stages, making them appropriate for both puppies and adult dogs.
The Pet Plate Diet
Take a look at the each of the Pet Plate dog food meals and order the one(s) you think would work best for your dog.
Barkin' Beef
31% protein on a dry matter basis, 41 kcal/ounce
Ingredients: Ground beef, sweet potatoes, potatoes, beef liver, carrots, apples, green peas, pumpkin, dicalcium phosphate, natural flavor, safflower oil, salmon oil, calcium carbonate, salt, vitamins and minerals (taurine, vitamin E, ferrous fumarate, zinc oxide, manganese gluconate, thiamine mononitrate, magnesium oxide, potassium iodide, sodium selenite, vitamin D3)
Chompin' Chicken
35% protein on a dry matter basis, 38 kcal/ounce
Ingredients: Ground chicken, sweet potatoes, chicken liver, broccoli, butternut squash, apples, natural flavor, safflower oil, dicalcium phosphate, salmon oil, calcium carbonate, salt, potassium chloride, parsley, vitamins and minerals (taurine, vitamin E, zinc oxide, ferrous fumarate, copper gluconate, sodium selenite, manganese gluconate, potassium iodide, vitamin D3)
Tail Waggin' Turkey
24% protein on a dry matter basis, 38 kcal/ounce
Ingredients: Ground turkey, brown rice, turkey liver, carrots, apples, pumpkin, natural flavor, dicalcium phosphate, salmon oil, potassium chloride, calcium carbonate, salt, vitamins and minerals (taurine, vitamin E, zinc oxide, ferrous fumarate, copper gluconate, sodium selenite, manganese gluconate, potassium iodide, vitamin D3)
Lip Lickin' Lamb
26 % protein on a dry matter basis, 40 kcal/ounce
Ingredients: Ground lamb, sweet potatoes, quinoa, lamb liver, apples, broccoli, dicalcium phosphate, potassium chloride, salt, salmon oil, calcium carbonate, parsley, vitamins and minerals (taurine, vitamin E, choline bitartrate, zinc oxide, ferrous fumarate, sodium selenite, potassium iodide, vitamin D3)
How Does It Work?
Signing up for your first home-delivered shipment is simple (and 25% off). I filled out the quiz about my dog's breed, weight, age, activity level, and body condition in just a few minutes. My "guinea pig" was Amber, a two year old, spayed female mixed breed.
At the end of the quiz, you have the opportunity to choose which combination of four recipes you'd like to order and whether you want to enroll in the full meal or the "topper" plan. I ordered Amber Barkin' Beef on the full meal plan, but if you want to sample what Pet Plate has to offer, a topper plan including all four recipes would be the way to go.
Don't worry – you're not locked into anything. It's easy to update your account and your dog's meal plan or information (if she's a growing puppy, for example) on the Pet Plate website. The company also stands by their products with a 100% money back guarantee on your first box.
My Experience With Pet Plate
Amber's shipment arrived on it's expected delivery date containing 15 containers of pre-measured Barkin' Beef and 5 pounds of dry ice all wrapped in an insulated foil blanket.
I have to be honest and say I have a bit of a love/hate relationship with the Pet Plate packaging. It's undeniably well-designed to keep the food frozen solid during delivery and for ease of use once it's arrived, but there's an awful lot of it. The box and the plastic food containers are recyclable, but as far as I can tell, the bulky insulation has to be landfilled. I've seen more eco-friendly ways to safely deliver frozen food to your door.
I opened up one of the containers after it thawed and the smell of beef was overpowering! I gave it a stir, and this is what a "sample-sized" portion looked like. I love that many of the ingredients are so easily recognizable.
According to the information included in the box, Pet Plate food can last up to one year in the freezer, but Amber's containers had a "best by" date stamped on them that was about eight months in the future, which is still pretty good. Defrosted containers can stay in the fridge for week, but due to the absence of preservatives, any uneaten food should be discarded once it's been out at room temperature for around two hours. But with how good the food looks and smells, I don't think that's going to be much of an issue!
The Final Verdict
I was happy with Pet Plate, and so was Amber. The ingredients were fresh and obviously real food. The ordering process was easy. And Amber was a fan of the food she tried! I wasn't wild about the packaging, but all of the benefits might outweigh this. If you are looking for fresh dog food, I recommend giving Pet Plate a try.
Looking for more info about keeping your dog well-fed on a healthy, nutritious diet? Check out our reviews of The Best Dog Food Delivery Services and The Best Dog Food for Allergies.